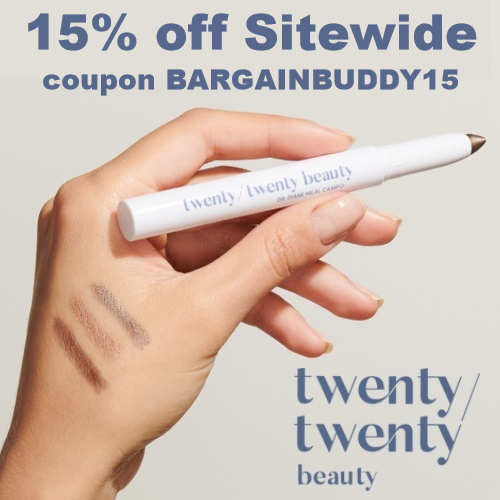 Founded by Dr. Diane Hilal-Campo, a Columbia-trained, board-certified ophthalmologist, twenty/twenty beauty creates safe & effective beauty products that enhance the natural beauty of your eyes while keeping them healthy.
After spending decades treating female patients with dry eyes and other painful conditions caused by makeup and beauty treatments, Dr. Hilal-Campo decided to develop her own brand of eye-friendly formulas using only the safest, most beneficial ingredients.
Every twenty/twenty product is designed to give you the results you're looking for without sacrificing the health of your eyes. Their products are completely free of the many harmful ingredients found in other beauty products that can damage your eyes, like glitter, loose mineral powders, and mica.
Their product line includes:
Visionary Eye Shadow Stick – Powder-based eyeshadows can be incredibly irritating to the delicate eye area and pigments & glitter flake onto the ocular surface which can cause inflammation, scratch the cornea, and even permanently stain the subconjunctiva (the area behind the whites of your eyes).
twenty/twenty's Visionary Shadow Stick is made with gentle, ophthalmologist-tested, eye-safe ingredients that work to minimize the symptoms of dry eye disease while also promoting softer skin and healthier-looking lashes. This creamy & hydrating eyeshadow comes in 3 beautiful shades that enhance the natural beauty of your eyes without the irritation.
Get Growing Lash & Brow Serum – This clean formulation is packed with conditioning & hydrating castor oil, argan oil & coconut oil to not only support the growth of thicker, darker, and healthier lashes and brows, but to also to minimize the symptoms of dry eye disease with daily use. It comes with 30 disposable applicators to avoid double-dipping wands and help you maintain a hygienic routine.
Double Duty Precision Liner – Many eyeliners, especially when applied to the waterline, can cause allergic reactions, irritation, and potentially lead to dry eye disease later in life. This ophthalmologist-tested liquid liner is made with safe & gentle ingredients that won't irritate your eyes. It defines your lash line without flaking or staining and it promotes thicker, fuller-looking lashes over time.
Easy on the Eyes Daily Hygiene Facial Spray – This all-natural, soothing face mist safely and effectively cleanses eyelashes, eyelids, and the skin while working to calm inflammation, reduce redness, and minimize irritation. It's perfect to keep in your purse for a refreshing & disinfecting pick-me-up throughout the day.
Get 15% off Sitewide at twenty/twenty beauty using coupon BARGAINBUDDY15. Orders over $40 ship Free.
All products come with 30-day easy returns. If you don't love your product, you can send it back for a refund!
All twenty/twenty beauty products are formulated without prostaglandins, fragrance, argireline, acetyl hexapeptide-3, acetylhexapeptide-8, benzalkonium chloride, glitter, loose mineral powders and mica.
5