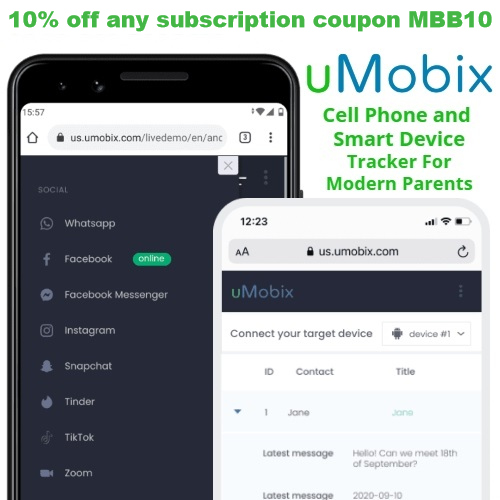 Keeping an eye on your kids is harder than ever with today's modern technology. In a world full of smart phones, tablets, and even smart watches, your kids have 24/7 access to the Internet and social media apps – Which brings with it all kinds of dangers that you can't detect or protect them from without help. That is where uMobix comes in!
uMobix is a cell phone tracker for modern parents. It allows you to monitor everything that happens on your child's smartphone or tablet in real-time so you can help protect them from online predators, cyberbullying, inappropriate content, Internet addiction, and other perils a connected life can bring.
uMobix allows you to monitor all sent, received, and deleted text messages, view all incoming & outgoing calls, get timestamps and contact info for calls & messages, and monitor your child's activity on over 30 popular apps and social media platforms, including Facebook, Instagram & Snapchat.
uMobix has tons of other great features that help keep your child safe and give you peace of mind, including access to all their photos & videos, GPS that gives you accurate real-time locations of your child along with a history of places they've visited, a keylogger that logs everything your child types including keystrokes and passwords, and more.
It's compatible with most Android and iOS devices and is easily installed in about 5 minutes. All data is delivered to your personal account which you can access from any device or computer.
Get 10% off any subscription at uMobix using coupon MBB10.
uMobix is designed for parental control on children under 18 years old. It is only legal to use uMobix if you own the device you're going to monitor or you have written consent from your child. It is illegal to use uMobix for tracking the digital devices of adults.
3