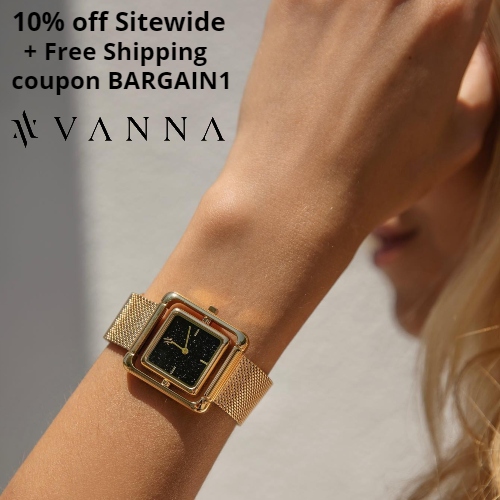 VANNA creates luxury women's watches with sophisticated minimalism and bold creativity. Their watches give you a beautiful balance between timepiece and jewelry with the combination of premium materials and exquisite, unique designs.
VANNA has six collections of watches that you can customize with your favorite case metal (rose gold, yellow gold, or stainless steel) and dial color. Each collection has its own personality, but shares unified characteristics. Inspired by the natural phenomena of the universe, high-quality metals are mixed with bold-hued dials and natural gemstones to bring an artistic touch to your wrist and a one-of-a-kind piece that stands out from the crowd.
Get 10% off Sitewide at VANNA using coupon BARGAIN1. All orders ship Free – No minimum purchase required. All watches come with an 18-month warranty.
The VANNA watch collection includes:
UMBRA – Inspired by the total solar eclipse, Umbra watches feature a delicate square case with a unique orbit detail.
ECLIPSE – Following the space theme, Eclipse watches take inspiration from the partial solar eclipse and they feature a round case with a half-moon-shaped orbit.
NEBULA – The asymmetric case of the Nebula watches are inspired by gas clouds in space which are devoid of specific shape or form.
LUNA – VANNA's Luna watches are for those who appreciate symmetry and sharpness. They feature a hidden crown, which gives these watches a bracelet feel.
CLAIRE – Watches in the Claire collection have a unique ring-like shape and a hidden crown giving them a bracelet feel.
GEMINUS – Vintage meets modern and symmetry meets asymmetry. Watches in this collection feature a one-of-a-kind dial.
2