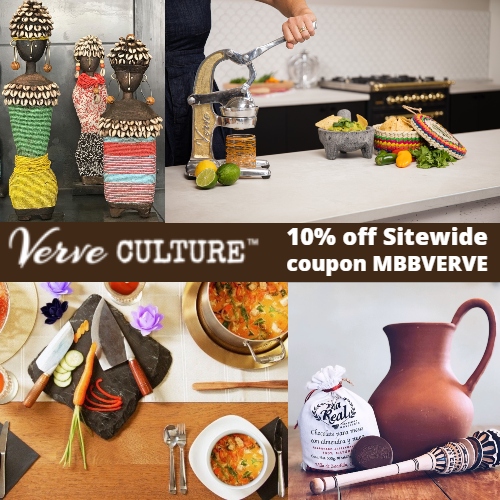 Verve Culture brings you on a cultural journey through artisan made products. They are a small, woman-owned family business that partners with artisan makers to create a marketplace for culinary and home goods from around the world.
Verve Culture curates iconic items that are made in the country of origin using traditional practices. They offer kitchen essentials, handmade products, gourmet food, and more from Mexico, Morocco, and Thailand. They believe exposure to new cultures and experiences brings joy and each of their artisan & handmade products come with the story of where it is made, by whom, and the history of the item.
Get 10% off Sitewide at Verve Culture using coupon MBBVERVE. For a limited time shipping is Free on all orders – No minimum purchase required!
More about Verve Culture –
Verve Culture is committed to offering an inside view of how certain tools and tastes can create memorable experiences with friends and family. Beautiful, purposeful, authentic and respectful of the people who make the items, is at the heart of their philosophy. Verve Culture provides a space for artisans to amplify their products' reach to a wider audience. With increased demand, it allows the businesses to grow, buy new equipment, and hire more people in their community to sustain their artisan craft. They work with a team of amazing artisans who have been partnered with them for their entire journey.
Verve Culture has been featured in VOGUE, Forbes, epicurious, REAL SIMPLE, and more.
9