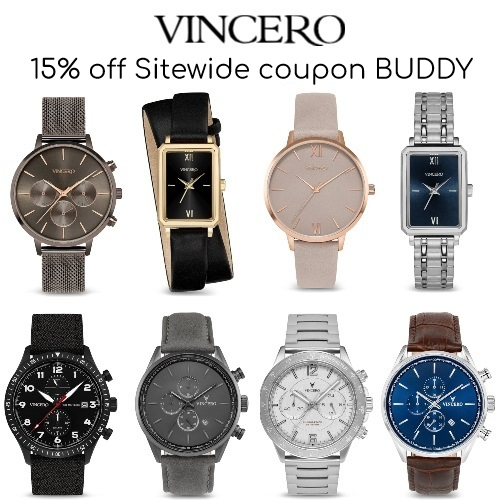 Vincero offers exceptionally crafted and fairly priced watches. Their solid, well-made timepieces deliver an unrivaled value. When you receive one of their watches, you'll feel like you got more than what you paid for! They design everything in-house, source their own materials, produce in small batches, and ship directly to your door – this means you get ethically produced products that are subject to rigorous quality control standards.
Watches are a great way to stand out and they make great gifts! Vincero Watches add sophistication, style, and edge to any look. They have a great selection of men's and women's watches that are all expertly designed and handcrafted including luxury, dress & casual watches that come in stainless steel, rose gold, silver, Italian leather, and more.
Vincero also carries sunglasses, bracelets, wallets, and other accessories.
Get 15% off Sitewide at Vincero Watches using coupon BUDDY. All products are backed by a 30-day return policy and a 2-year guarantee. Worldwide shipping is $5 or Free on orders of $50 or more.
3