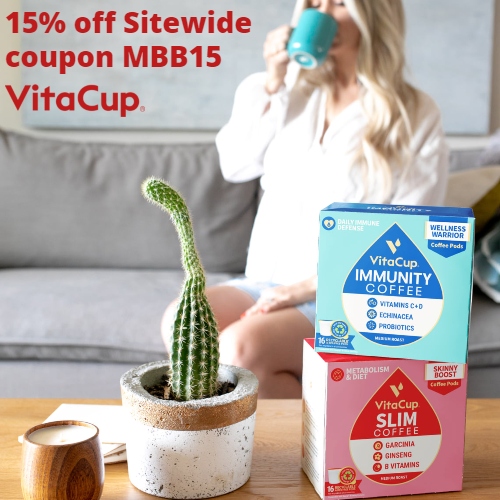 Are you feeling sluggish and having trouble sleeping, staying focused, or losing weight? Chances are you could have a vitamin deficiency. VitaCup provides an easy & delicious way to get the vitamins you need to keep yourself healthy and energized and it's as easy as drinking a cup of coffee or tea!
Their variety of premium coffees and teas are infused with essential vitamins, antioxidants, and other superfoods to help with things like balance, focus, lasting energy, immunity, weight loss, hair, skin & nail health, brain health, and more.
VitaCup has a wide range of flavors & roasts to choose from, each with their own health benefits. Their tea comes in your choice of pods or traditional tea bags and their coffees are available in pods, grounds, and instant sticks that are great for the office & on-the-go.
VitaCup also offers a vanilla flavored Keto + Collagen Creamer that supports clean energy, improves skin elasticity, promotes nail & hair growth, and assists in fat burn.
Get 15% off Sitewide at VitaCup using coupon MBB15. Shipping is $4.95 or Free on orders of $39 or more. Products come with a 45-day satisfaction guarantee. Coupon is not valid on subscription orders, variety packs, clearance items or Oat Milk Lattes.
1