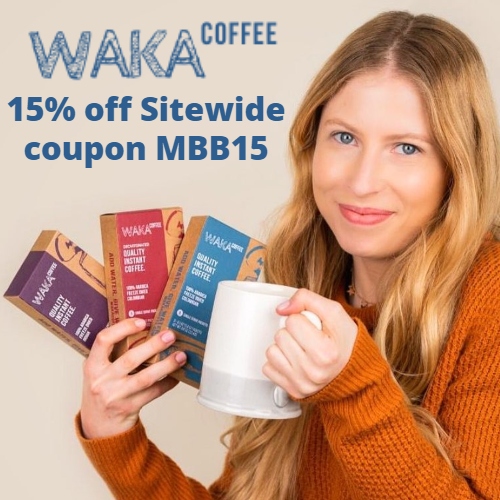 Waka Coffee is turning the instant coffee world upside down with their high-quality, great tasting instant coffee, tea, and matcha that you can enjoy in seconds! They are perfect for people who want a simpler drinking experience without sacrificing flavor. Plus, they're great for on-the-go!
Their coffee tastes like freshly brewed drip coffee, so you get the same taste you love, just without all the hassle. Simply pour it in your cup and add water. Waka Coffee sources only 100% Arabica beans, which are commonly used in coffee shops, to provide the best taste and their beans are freeze dried to best preserve the coffee's aroma and depth of flavor.
Waka instant coffee comes in single serve packets that are great for the office, on the go & when traveling, and they would be perfect for camping! The 3.5 oz bags allow you to customize your cup exactly how you want it. They offer Columbian medium roast (caffeinated and decaffeinated) and Indian light roast.
Waka instant tea is just as quick and easy to make. No need to wait for your tea to steep or boil water if you want iced tea. All you have to do is add water! It easily dissolves leaving no cleanup or tea bag waste. Waka instant tea is made of 100% tea leaves, so you can enjoy the same benefits of steeped tea in the form of a premium powder with no artificial colors, carriers, sweeteners, or fillers. They offer Kenyan Black tea and Japanese Matcha.
To make your coffee & tea experiences even better, check out their gift sets and bundles. The gift sets are great for any coffee lover in your life or as a special treat for yourself. Their collapsible cup & bottle bundles making sipping your favorite beverage on the go even easier!
Get 15% off Sitewide at Waka Coffee using coupon MBB15. Shipping is $4 or Free on orders of $35 or more. Coupon is not valid on subscription orders or stand-alone accessories.
Through their "Add Water, Give Water" program, Waka donates a portion of their profits to charity: water to support projects that bring clean drinking water to 26 countries around the world.
4