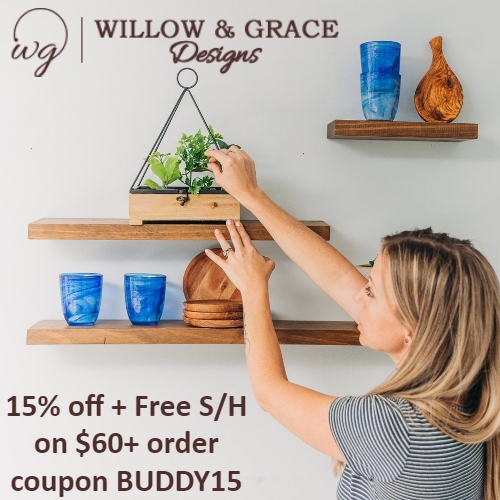 Willow & Grace Designs is a family-owned company that handcrafts beautiful floating shelves that are easy to install and will add a decorative touch to any room while increasing your storage space.
Their functional shelves are great for displaying your treasures or for adding organization to your home & office and freeing up counter & drawer space by using them for things like office supplies, kitchen utensils, bath & body products, books, and more.
They are made with 100% natural wood and industrial iron. They can hold up to 40lbs, so you can display collectibles, glassware, art, or photos without worrying about them falling and breaking. They come in 3 trendy yet timeless styles and are available in multiple finishes so you can find the style & color that works perfectly with your space.
Installation is quick & easy with their Smart Bracket Mounting System. Simply position the wall-mounting bracket anywhere along the wall, and once it's secure, slip your shelf into place for professional-quality installation. The bracket mount also ensures the shelves lay flush against your walls giving them a clean, sleek look.
Get 15% off and Free Shipping on your order of $60 or more at Willow & Grace Designs using coupon BUDDY15. All shelves come with a satisfaction guarantee.
Willow & Grace Designs Gives Back –
Did you know that 1 in 4 children in America grows up without learning how to read? In middle-income neighborhoods, the ratio of books per child is 13 to 1. In low-income communities, it is one age-appropriate book for every 300 children!
The Willow & Grace Foundation is on a mission to change that! For every set of shelves sold, they donate a percentage of their profits to educators across the country to help buy books that will provide high-interest reading for students.
Willow & Grace Designs also partners with St. Jude Children's Research Hospital, Make-A-Wish Foundation, and Shriners Hospitals for Children to help children in need.
4