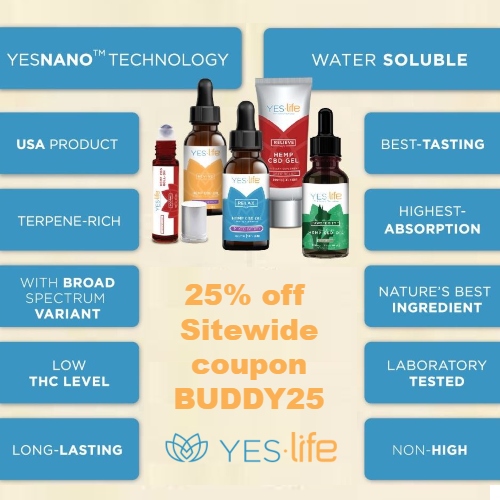 YesLife is dedicated to providing natural solutions that are known to work. They focus on smart science and high-quality products for those seeking better health, no matter what challenges they may face. Their goal is to get you saying YES to LIFE again!
YesLife sells stable, longest-lasting, high-absorbing CBD remedies. Their products contain no addictive chemicals, they are USA-grown & harvested, and every batch of CBD is 3rd party tested for pesticides, metals, bacteria, and stability, ensuring every product is safe for you and your family.
They offer a range of CBD oils, Nano CBD pain relieving cream, hand sanitizing spray, CBD oil for pets, and a Nano CBD Roll On that's great for on the go. It's small & compact, so you can apply it wherever you need quick relief.
YesLife utilizes smart science so your body can absorb the ingredients effectively. Ordinary oils clump together, especially in the presence of water. By targeting the "packing" sizes of their CBD oils, they have managed to prevent such clumping with what they call YesNano™ Technology. By shrinking down the sizes of the oil and allowing them to mix with water, their CBD products can both absorb into and mix with the human body. This technology provides you with the vast benefits of CBD as quickly and efficiently as possible.
Get 25% off Sitewide at YesLife using coupon BUDDY25. All products come with a 30-day money-back guarantee + Free shipping. Want to try before you buy? Request a Free sample.
3