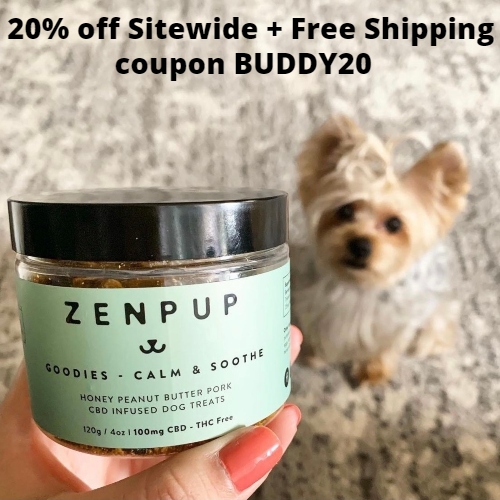 ZenPup was created out of a deep-rooted passion and desire to improve the lives of pets in a safe, natural way. They provide an alternative to harsh medications for pain & anxiety with their premium CBD products are specially formulated for dogs.
Each and every ZenPup product is designed to nourish, heal & positively impact your pooch. Their ingredients are carefully curated to be just as gentle on your dog as they are effective, so they can safely live life free of anxiety & pain and filled with health & happiness.
ZenPup offers three great products that can improve your pet's health through all life stages:
GOODIES – Calm & Soothe – ZenPup Goodies include 5mg of broad-spectrum hemp oil and a calming botanical blend that soothes your pup's nerves, promotes a sense of comfort during times of stress, and boosts their immunity for long-term health. They come in a great honey peanut butter pork flavor that dogs love. They're perfect as part of a daily wellness routine or a calming snack and offer the perfect dose of TLC without THC.
HAPPY – Bacon Flavored CBD Tincture Spray – A fast-acting, tasty tincture to help your best friend feel relaxed and ready for every adventure. ZenPup Happy spray is the perfect mood-booster for anxious or hyper-active dogs, delivering peaceful calm within a few hours. With ZenPup's proprietary blend of full spectrum hemp-extract oil, Happy soothes your pup during times of stress while boosting their immunity for long-term health. Add a spray to your pup's morning routine for a daily dose of comfort.
CLEAN – CBD Infused Rinse-Free Shampoo – Make stressful bath times a thing of the past with ZenPup's rejuvenating rinse-free shampoo. Packed with 300mg of broad-spectrum hemp oil that soothes your best friend's skin, coat, muscles, and joints, their proprietary formula extends time between regular baths and keeps them refreshed and restored, regardless of the day's adventures.
Get 20% off Sitewide at ZenPup using coupon BUDDY20. All orders ship Free – No minimum purchase required.
Want to try more than one product? Check out the ZenPup bundles. They're already up to $30 off before coupon!
1