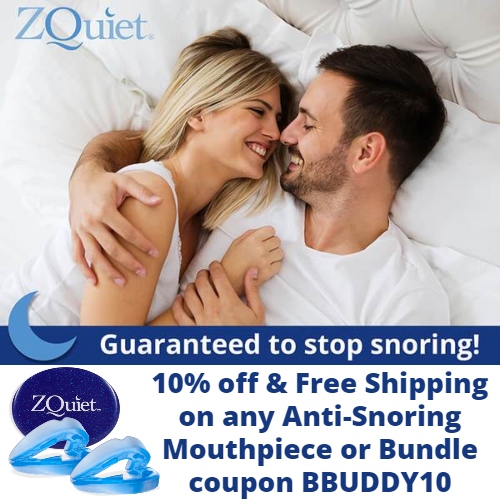 ZQuiet Coupon
Today: 10% off & Free Shipping on any Anti-Snoring Mouthpiece or Bundle
Coupon: BBUDDY10
Expires: Unknown
ORDER NOW
Snoring can really take a toll on both you and your loved ones by keeping everyone up at night. Sleepless nights lead to less energy, irritability, and sleep-related health issues. ZQuiet offers safe & effective snoring solutions so you and your family can get a good night's sleep and wake up feeling refreshed and revitalized.
Snoring noise is most often caused by tissue vibration in the back of the throat. The FDA-cleared ZQuiet mouthpiece stops snoring at its source by widening the airway by gently advancing your lower jaw to quiet the noise instantly. This is the same clinically proven technology dentists have been using for years to treat patients with snoring issues – but the ZQuiet Mouthpiece is engineered to work right out of the box with no dentist appointment or fitting required.
To maximize your results, check out their Ultimate Snoring Elimination Bundle. The bundle includes a ZQuiet Anti-Snoring Mouthpiece set, the ZQuiet Breathe Nasal Breathing Aid to increase airflow and quiet nasal breathing, and ZQuiet Clean, a foaming cleaner and brush to keep your mouthpiece minty fresh and free of germs and bacteria.
Get 10% off & Free Shipping on any ZQuiet Anti-Snoring Mouthpiece or Bundle using coupon BBUDDY10. Coupon is not valid on 30-day trials or mouthpiece refills.
ZQuiet is so confident that their mouthpiece will help you stop snoring, they offer a 60-night better sleep guarantee with Free returns! If you aren't satisfied with your mouthpiece for any reason, you can return it within 60 days for a refund or credit.
1