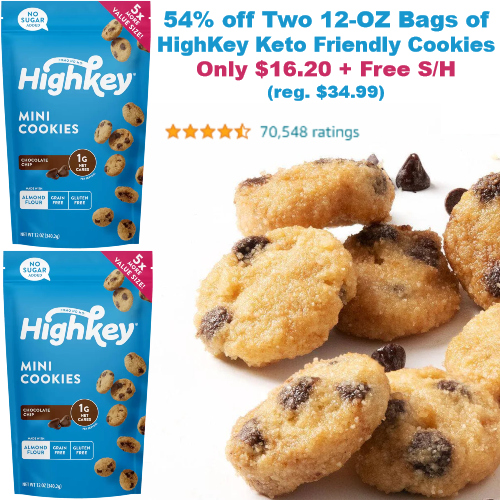 HighKey Keto Friendly Mini Chocolate Chip Cookies taste just like your childhood snack, but without all the added junk. With 0 grams of sugar, only 1g of net carbs, and more than 26,000 5-star reviews – it's easy to see why they're the internet's favorite cookie. They are grain-free, gluten-free, and made with clean ingredients.
The best by date on these cookies is 12/21/2022, so you'll have plenty of time to enjoy them! On sale fore $17.99, you can get an extra 10% off sitewide using coupon BUDDY10, making this 2-pack of cookies just $16.20. All orders ship Free!
These cookies are a top seller at Amazon, where they have a 4.3 out of 5 star rating with over 70,000 reviews! There, two 12-ounce bags are priced at $33.
2