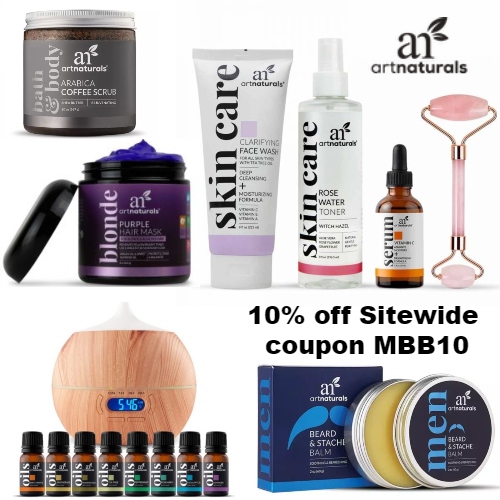 ArtNaturals was born out of a desire to free beauty from high prices, toxic chemicals, and all-around bad vibes. All of their products are plant based, chemical free, cruelty free, and best of all, affordable! They use only nourishing, natural ingredients to boost your beauty with no preservatives, parabens, or phthalates to drag you down.
They have a wide range of beauty products including full hair care, skin care, and bath & body care lines, including everything from anti-aging face & eye creams, makeup, shampoo, conditioner, & styling products to lip balm, sunscreen and tanning oil, and a men's line that includes body wash, beard care products, and shaving essentials.
ArtNaturals also offers vitamins & supplements, essential oils, and oil diffusers. Their top-quality aromatherapy diffusers and essential oil blends help soothe, relax, invigorate, and purify the air.
If you're looking for personal protection essentials, they have those too! Sanitizing wipes, hand soaps, hand sanitizer, reusable & disposable face masks, and face shields are available.
Get 10% off regular price items at ArtNaturals using coupon MBB10. Coupon will not work on sale items. All orders come with a 30-day money-back guarantee! Standard shipping is $5.99 or Free on orders over $40.
4