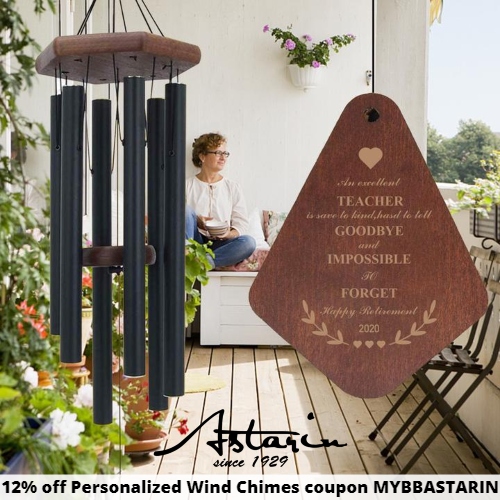 Astarin has been producing premium quality wind chimes since 1929. Their wind chimes are individually hand-tuned for musical perfection and produce a unique melody that is soothing, relaxing, and cheerful.
Their personalized wind chimes are a beautiful addition to any outdoor space and they would make a meaningful gift for loved ones. They offer metal, wood, and bamboo wind chimes in many different styles and colors. They can be personalized as a memorial for a loved one that has passed or to commemorate special occasions, like weddings or anniversaries. You can add photos, names, dates, and/or your favorite scriptures or sayings to make your wind chime unique and personal.
Get 12% off personalized wind chimes at Astarin using coupon MYBBASTARIN. Shipping is Free on orders of $99 more.
2