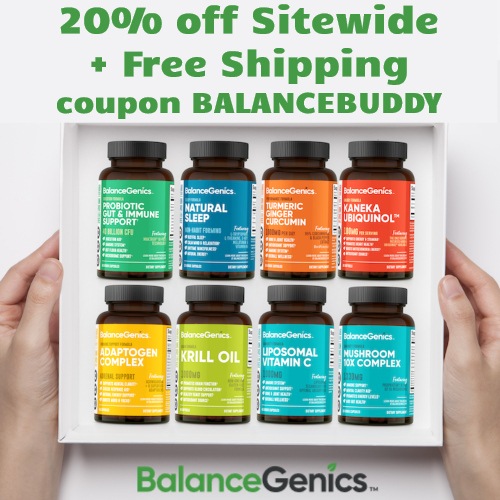 BalanceGenics offers high-quality, non-GMO health supplements that are formulated and manufactured in the USA. All products come with a 60-day money back guarantee. If you are not 100% satisfied, they will send you a replacement or a full refund – no questions asked!
Get 20% off Sitewide at BalanceGenics using coupon BALANCEBUDDY. Coupon will work on a one-time purchase as well as apply to your first subscription order and stack with their 25% off subscribe & save discount. Shipping is Free on all orders – No minimum purchase required.
BalanceGenics Daily Turmeric helps counteract the adverse effects of everyday stress on the body and supports healthy joint function.
BalanceGenics Daily Adrenal helps increase natural energy, reduce mental fog and reduce stress levels.
BalanceGenics Daily Probiotic supports healthy digestion and strengthens the immune system.
9