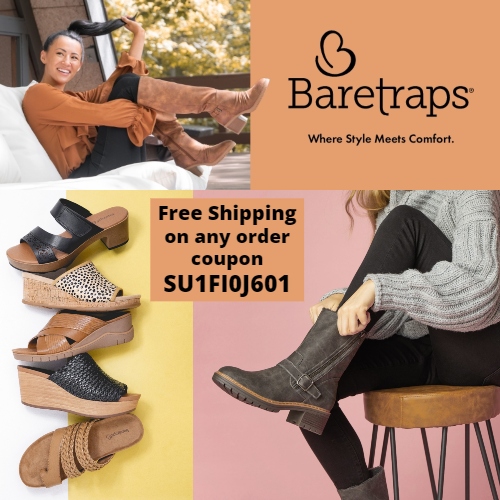 Baretraps is a family-owned company that has been creating stylish, affordable, and super comfortable shoes for over 30 years.
Their mission is to take the latest fashions in footwear and turn them into top-notch shoes that feel as great as they look. Their shoes are expertly designed in-house and made with the highest quality materials, superior craftsmanship, and the latest in comfort & weather proofing technology. Some of their most innovative footwear technology includes:
Rebound – Their lightweight 3-layered Rebound technology uses arch & heel support and a responsive sole with bounce energy to prevent stress on your feet and provide all-day comfort.
Posture Plus – 80% of Americans deal with back, joint, and foot pain issues from bad posture. Baretraps' Posture+ technology provides posture correcting benefits to balance, align, support, and provide relief throughout the entire body, not just your feet. Their Posture+ shoes & insoles will help alleviate soreness and provide lasting comfort.
Weatherproof – Winter is coming! Be prepared with Baretraps' weatherproof boots! They keep feet warm and dry at temperatures as low as -5°F! They are expertly designed with great features like sturdy metal eyelets for easy lacing and faux fur materials for added warmth. Their lightweight construction won't weigh you down and the flexible outsole is designed to follow the natural movement of your foot for ultimate functionality & comfort.
Baretraps offers a large selection of men's and women's footwear for every season and occasion, including sandals, wedges, slides & slip-ons, casual shoes, athletic shoes, and a wide range of boots. You'll find stylish booties, riding boots, waterproof boots, cold weather boots, hiking boots, and more.
Get Free Shipping on any order at Baretraps using coupon SU1FI0J601. Be sure to check out their sale section. Many styles are over 50% off!
2