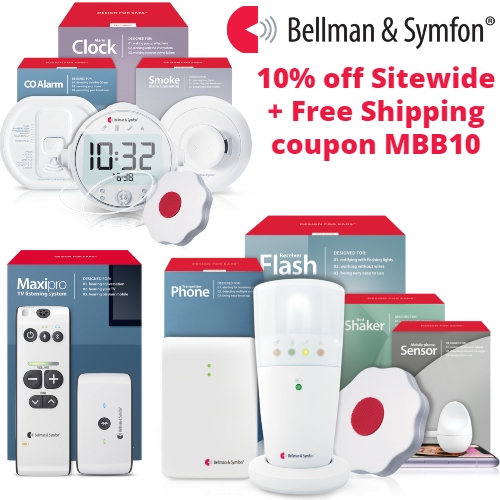 For over 30 years, Bellman & Symfon has been developing and producing top of the line products for people dealing with hearing loss. Their hearing solutions empower you & your loved ones to stay safe, independent, and socially active.
The Bellman & Symfon range of hearing solutions includes:
– Hearing amplifiers & TV listening systems that filter out background noise and enhance speech so you can hear clearly no matter where you are. They come with headphones, earbuds, and one ear headsets. They are slim, lightweight and small enough for you to carry in your pocket or wear discreetly around your neck.
– Carbon monoxide & smoke alarms that are designed to wake anyone, even those with severe hearing loss & the deepest of sleepers.
– Alarm clocks with bed shakers or built in vibration that are perfect for the deaf, hard of hearing, and deep sleepers.
– Visit smart home alerting devices that make sure you know if a carbon monoxide or smoke alarm is going off, when the telephone & doorbell ring, and even when your baby is crying. Their Visit transmitters send a signal directly to your Visit receiver which will alert you with flashing lights, loud sounds, and vibrations so you always know what's going on in your home.
Get 10% off Sitewide at Bellman & Symfon using coupon MBB10. All orders ship Free – No minimum purchase required. All products come with a 2-year limited warranty.
7