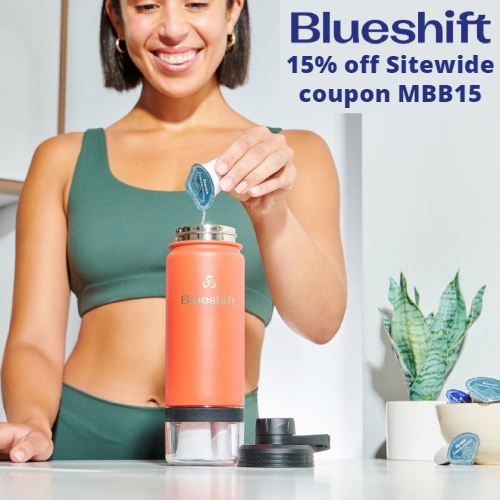 Blueshift Nutrition makes taking your vitamins easy and delicious with their nutrient-packed pod-based beverages that promote hydration and deliver up to 10x more nutrients than most supplements in pill form.
Their plant-powered & science-backed Superblend formulations combine cutting-edge nutritional science with nature's most effective superfoods & bioactive plant extracts, such as adaptogenic mushrooms, phytonutrient-packed vegetables, antioxidant-rich berries, and other functional herbs and roots. They use the most bioavailable forms of each ingredients to allow your body to absorb and utilize them faster and more easily.
The convenient pods come in delicious fruit flavors that make them more of a treat than a chore. Their innovative bottles can actually hold your daily pods and instantly mix them, so you can get the nutrition you need whenever you need it. Their signature Wellness Bottle has a rechargeable motorized blender that gives you the smoothest drink possible and colorful light reminders so you never forget to take your vitamins!
Already have a favorite bottle or glass? Their peel-and-pour pods are designed to work with whatever you prefer. Just mix well into 14 ounces of cold water and enjoy!
Blueshift Nutrition offers a variety of Superblend pods to provide targeted support for specific health issues, including overall health & wellness, digestion & gut health, energy & focus, immunity, beauty, heart & circulation, sleep & stress, bone & joint health, women's health, longevity, and more.
Get 15% off Sitewide at Blueshift using coupon MBB15. Shipping is $5 or Free on orders over $50. All products are backed by a 100% happiness guarantee. Coupons are not valid on subscription orders.
Be sure to check out their curated Fitness, Travel Survival, Parenting Survival, and Self-Care bundles. Each 42-count bundle comes with 3 Superblends chosen to help with specific goals and you'll save an additional 10%!
2