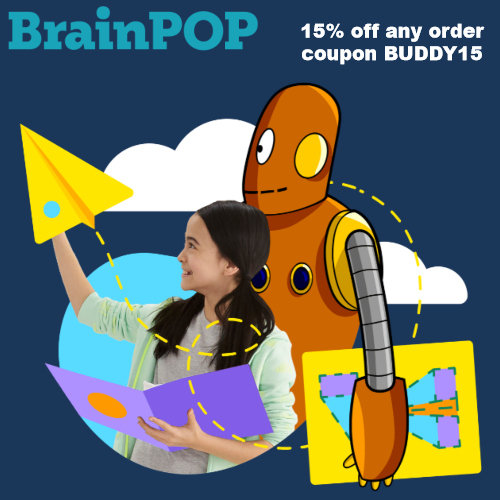 Ignite a love for learning that leads to lifelong achievement. BrainPOP inspires kids to connect deeply to any topic by making it relatable, entertaining, and easy to understand. Their proven approach boosts academic achievement while building thinking and SEL skills.
BrainPOP provides standards-aligned content for every grade and subject and they've delivered powerful learning experiences to 6+ million educators and 300+ million students over 20 years!
BrainPOP is their flagship resource, for upper elementary and middle schoolers with a focus on STEM, social studies, English, health, arts, and music.
BrainPOP Jr. (grades K-3) gently encourages young learners to ask questions and form their own ideas with a focus on STEM, social studies, reading and writing, health, and arts.
BrainPOP ELL is a proficiency-based English language learning program appropriate for all ages with a focus on vocabulary, grammar, listening, reading, and writing.
Get 15% off any order at BrainPOP using coupon BUDDY15. Subscriptions are available for parents, as well as teachers and administrators.
Parents can try BrainPOP Family or Homeschool Free for 2 weeks with their trial offer. Be sure to enter coupon BUDDY15 on the payment page when you sign up so you can get 15% off if you decide to continue with a subscription!
4