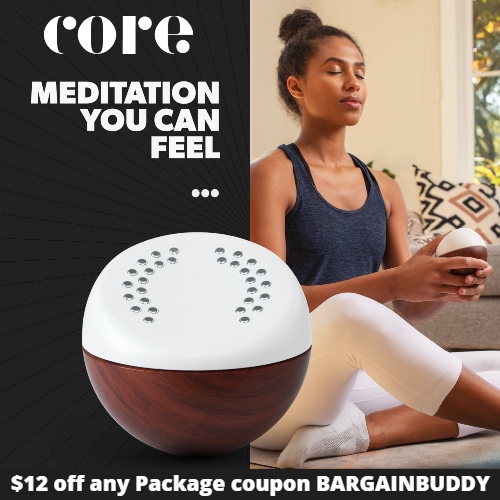 Core Wellness is a mental wellness company that designs meditation devices for modern life. Adding meditation to your routine trains your brain to build resistance against daily stressors that impact your mental and physical health. The problem is training yourself to clear your mind, relax & focus enough to have a beneficial meditation session can be hard! That is where Core Wellness comes in. They offer the most immersive meditation experience out there, guided by audio, vibrations, and stress-level tracking.
The Core Meditation Trainer + App is the new way to meditate. With the Core Meditation Trainer, you simply select a meditation, hold Core in your hands, and drop into sessions guided by vibrations and audio. Core pulses alongside your meditation sessions. Depending on the type of session, the vibrations will guide you in breath technique training or serve as a gentle reminder to help you keep your attention focused. Core also measures your heart rhythm via ECG and provides personalized reports to give you insights on your progress, both within a session and over time.
Other benefits of Core include:
Guided Meditations – Press reset with one of their many voice guided meditations. Premium subscribers can find a new kind of peace of mind each week with new classes from their team of expert instructors.
Breath Training – Learn to unlock one of the most powerful calming tools we have, our breath, through Core's extensive selection of breath training sessions.
Sound & Music – Make some time and space to go unguided with soundscapes and background vibrations that support your inner calm and focus.
Greater Consistency – Core users meditate more than 4 times as frequently as users of stand-alone apps.
Meditations for Every Schedule – The Core app includes a broad variety of meditation lengths and themes to meet every need. You can relax & recharge in as little as 3 minutes a day!
Beautiful Design – Core is made with natural wood and designed to stand out in your home as a reminder to show up for yourself.
Core Wellness has two packages to choose from:
The Core Essential Package includes –
• The Core Meditation Trainer with built in ECG sensors
• Access to basic guided meditations, breath training, and soundscapes
• No subscription required
The Core Premium Package includes –
• The Core Meditation Trainer and all basic meditations
• Guided meditations by expert instructors released daily
• Classes on better sleep, managing stress, positive relationships, and more
• Original music sessions for deeper meditation
• Includes $69.99/year Premium subscription
Get $12 off any Package at Core Wellness using coupon BARGAINBUDDY. Both packages include Free shipping.
Want to try it but not sure it's right for you? No worries! Core comes with a 30-day Free trial! If you are unsatisfied with your Core Meditation Trainer or premium subscription for any reason during your 30-day trial, Core Wellness will refund your money.
How Core Wellness started:
Founder and CEO Sarah McDevitt was inspired to invent Core by her own need for an actionable strategy to stay on track through meditation. In 2014, Sarah was experiencing a number of changes simultaneously (a breakup, moving, and leaving her job at Microsoft) resulting in a heavy bout of anxiety. Sarah found relief in meditation, but discovered it was challenging to make it a regular, long-term habit.
This led Sarah to create what she wished already existed: a handheld meditation device that could guide users via vibration, while a built-in ECG offered insights into how their physical well-being was affected. Sarah paired up with co-founder Brian Bolze while pursuing her Masters in Education at Stanford. Together, they designed Core.
2