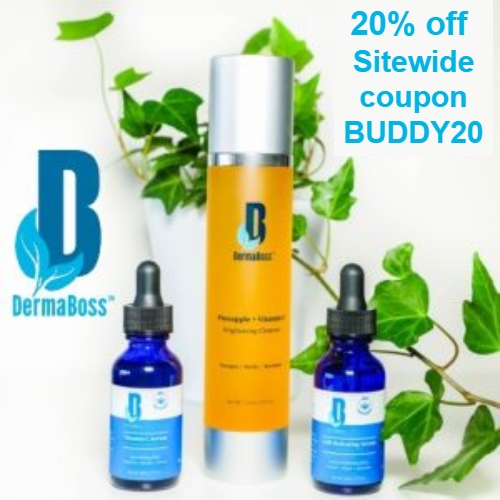 Dermaboss brings a scientific approach to all-natural skincare. Their products give your skin natural nourishment and work to complement and improve your complexion.
Dermaboss offers two great facial serums and a brightening cleanser. All three are free from sodium laurel sulfates, parabens, petrochemicals, dyes, alcohols, and synthetic fragrances.
Combining their three exclusive products into your skincare routine will give you amazing results! Their unique Pineapple + Vitamin C brightening cleanser removes excess dirt and oil, without drying out your complexion; giving your skin a burst of energy and preparing it to absorb their powerhouse serum combo. And it smells great too!
By layering the Vitamin C serum and Cell Hydrating serum, you are actively brightening, smoothing, and redefining your complexion, while locking in a barrier of hydration. This combo can help to reduce blemishes, signs of aging, and redness.
Get 20% off Sitewide at Dermaboss using coupon BUDDY20. All products come with a 100% money back satisfaction guarantee. Shipping is $5.95 or Free when you buy two or more products.
6