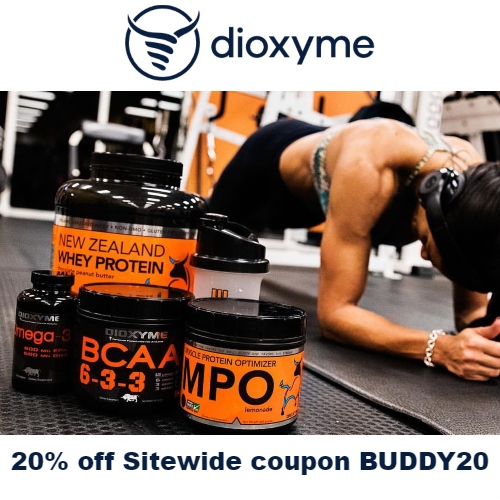 Dioxyme is a family-owned company that creates small-batch craft supplements that are research-backed, doctor-developed, athlete-validated, and tailored to you. Their co-founder, a physician and patent holder, believes in creating products that are held to the highest standards and based on medical research, so can be confident you're getting high quality supplements that are not only safe, but also effective.
Their products are engineered in partnership with the best athletes in the world and are trusted by many major league athletes. Dioxyme's small-batch approach allows them to be nimble. They listen to their customers feedback and adjust their products accordingly.
Dioxyme's supplements contain all natural, sustainably sourced ingredients, and come in eco-friendly packaging. All Dioxyme products are third party tested for safety & efficacy and they're made in the USA.
Dioxyme has a wide range of supplements to help with specific needs like building muscle, muscle recovery, weight loss, endurance, focus & memory, energy, and multivitamins for overall health. Whether you're a professional athlete, you want to set a personal best, lose weight, or you just want to get healthy, their supplements will produce results you'll actually feel and see.
Another great thing about Dioxyme products is their taste. We all know most health supplements taste terrible – not Dioxyme's! They employ expert-trained chefs who produce some of the world's finest confections to give you an experience you'll enjoy and actually look forward to. They take that a step further by only using sustainable, natural ingredients and flavors, derived from humane sources.
Get 20% off Sitewide at Dioxyme using coupon BUDDY20. All products come with a 100% money back guarantee. Shipping is Free on orders over $35.
1