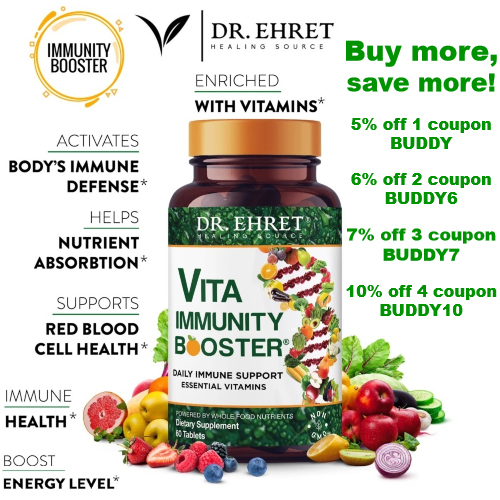 Dr. Ehret Coupons
Today: Extra 5-10% off Sitewide + Free S/H
Coupons: BUDDY, BUDDY6, BUDDY7 or BUDDY10
Expires: Unknown
SHOP NOW
Dr. Ehret provides an immunity booster supplement that's packed with key vitamins. Formulated to fill gaps in your diet, it supports your overall health by providing essential vitamins and minerals, including vitamins B, C, D, E, and K, as well as calcium, zinc, selenium, folate and turmeric. Dr. Ehret Vitamin Immunity Booster is made with the highest quality, non-GMO ingredients and manufactured in a state-of-the-art cGMP certified facility in the USA.
Dr. Ehret's Vita Immunity Booster benefits –
– Helps maintain immunity*
– Helps keep bones strong*
– Helps control inflammation*
– Helps maintain red blood cell health*
– Helps nutrient absorption*
– Helps maintain normal biochemical reactions in the immune system*
Buy more, save more with one of the coupons below! All orders ship Free – No minimum purchase required. Dr. Ehret's Vitamin Immunity Booster comes with a 30-day money back guarantee.
– 5% off One Bottle coupon BUDDY
– 6% off Two Bottles coupon BUDDY6
– 7% off Three Bottles coupon BUDDY7
– 10% off Four Bottle coupon BUDDY10
1