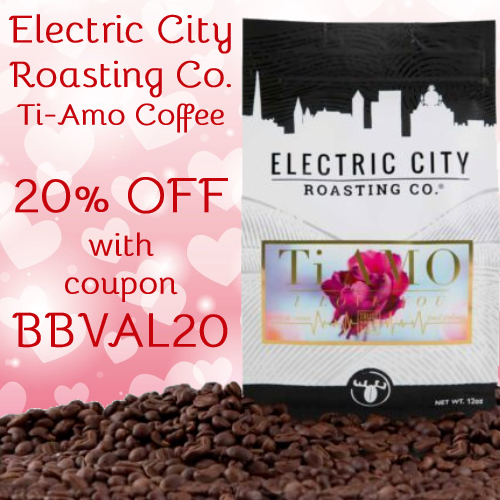 Given current circumstances, frivolous gifts just don't feel right to me at the moment. Don't get me wrong, I'm all for surprising loved ones with something on holidays and birthdays, but I want to send them something that's useful, practical, or brings some sort of comfort. If you can relate, and you have a coffee lover in your life, check out Electric City Roasting Co.'s Ti-Amo Blend Coffee.
Ti-Amo Blend Coffee is a flavor tribute to Valentine's Day. Going for that chocolate covered berry vibe, they roasted Ethiopia Mokamba coffee beans to create notes of berry, winey acidity, a juicy mouthfeel, and a dark chocolate flavor with a gentle finish. It's available in 12oz and 5lbs bags in whole bean, fine, drip, and French press.

For a limited time, you can get 20% off Ti-Amo Blend Coffee using coupon BBVAL20. The 12oz bag is under $20 shipped after coupon and makes about 22 cups of coffee. Order by Monday, February 8th for delivery in time for Valentine's Day!
If you see something else you want, you can get 15% off sitewide using coupon BUDDY15.
8