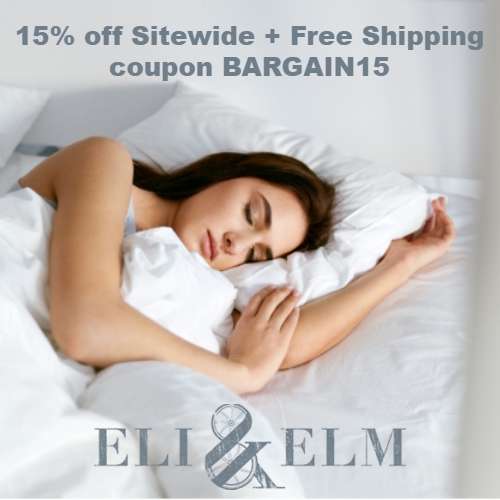 Eli & Elm is a premium bedding company with a purpose – Getting people the comfort they need and the sheets they deserve.
Eli & Elm bedding consists of high thread count, long-staple fibers that ensure maximum comfort, durability, and luxury. Their cotton collection is constructed with advanced phase change material to create a climate that keeps you warm while you are cool, and cool while you are warm. Their eco-friendly bamboo sheets have natural odor and allergy resistant properties, so they smell fresher and last longer than traditional cotton sheets. Their moisture wicking properties discourage dust mites and skin oil from becoming trapped in your bed.
With a product line that includes their amazing bed sheets, top quality pillows and cooling mattress protectors, you're sure to find everything you need to start getting a better night's sleep!
Get 15% off Sitewide at Eli & Elm using coupon BARGAIN15. Shipping is Free on all orders and all products come with a 45-day money back guarantee!
10