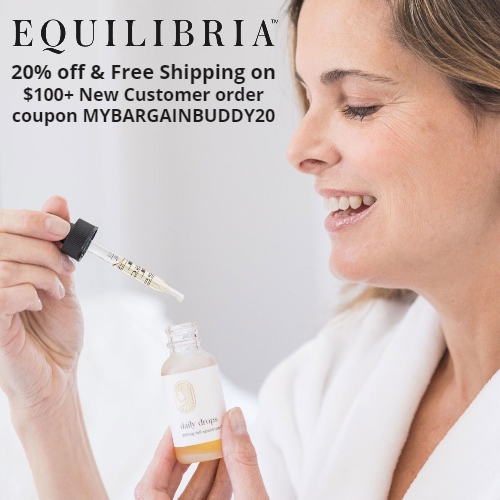 Equilibria Coupon
Today: 20% off & Free Shipping on $100+ New Customer order
Coupon: MYBARGAINBUDDY20
Expires: 12/31/21
SHOP NOW
Equilibria provides premium CBD for the modern woman. Their custom formulations and delivery mechanisms are developed with women-focused science and made from the highest quality, full-spectrum CBD that is organically grown by a bioscience team with over 30 years of experience in seed genetics. Their specially-formulated hemp oil features 9 cannabinoids & 21 terpenes that work together to give you powerful therapeutic results.
Their line of premium CBD products includes CBD oils, soft gels, luxurious treatment oil for healthy skin, rapid calming mint melts, pain relieving balm, bath bombs, mineral bath soaks, and more.
Equilibria knows that the stressors women face every day are totally unique. That's why they've developed expertly curated, data-backed collections that are designed around your health goals.
– The Balance Collection is perfect for women looking to increase centeredness and balance.
– The Calm Collection is for women that need to increase balance and address acute moments of stress.
– The Sleep Collection is targeted for women looking for a restful, energizing night's sleep.
– The Relief Collection is aimed at on-the-go women who needs targeted relief.
– The Extra Strength Collection is perfect for women who need stronger doses of CBD to see their desired effects.
Every woman's needs are different and their dosages are, too. That's why Equilibria offers Free dosage consultations with every purchase. No up-selling, just education and personalization of your routine to suit your unique needs. You can schedule a personal phone consultation or email their dosage support team anytime.
New customers can get 20% off and Free Shipping on their first order of $100 or more at Equilibria using coupon MYBARGAINBUDDY20. The more you buy the more you save! You'll get an additional 10% off when you buy 2 products or 20% off when you buy 3 or more products.
Coupon is valid on one-time orders and it will also apply to the first shipment on subscription orders. Subscriptions come with an automatic 20% off before coupon!
About the Equilibria founders –
As two professional women with full plates and their share of chronic pain, soreness and everyday stresses, Marcy Capron Vermillion and Coco Meers are living proof of the power of CBD.
Co-Founder Marcy Capron Vermillion's life forever changed after receiving CBD as a gift for her 30th birthday. She was able to drastically reduce her reliance on pharmaceutical drugs, and tackle her mental health and spinal nerve pain issues. As an engineer and perpetual innovator, she chose to learn everything possible about this powerful health agent, eventually leading workshops and gatherings on the medicinal and regulatory power of cannabis for women.
Co-Founder Coco Meers is a busy tech operator, investor, advisor, and, most importantly, mom of 2. CBD gives her peace of mind to be even more present with her family and relieves pain from her autoimmune spine condition.
3