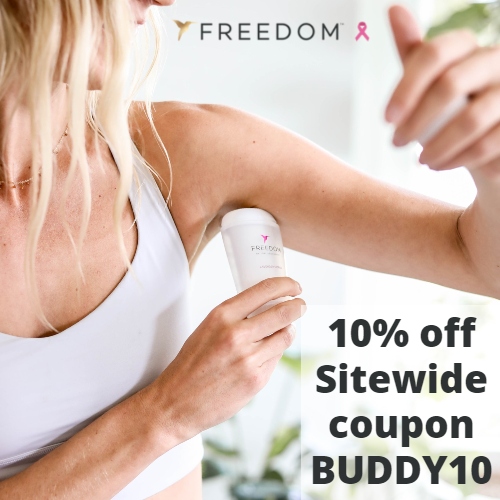 Freedom Deodorant offers natural deodorant and body sprays that actually work! Freedom carefully formulates clean, safe ingredients to give you the results you want without compromising your health.
Freedom products are always free of aluminum, parabens, phthalates, and toxic chemicals, and are never tested on animals. Their award winning, 100% natural formula is clinically proven to keep you smelling clean & fresh for 24 hours. Their products are not only safe & effective, they smell great as well, with scents like Lavender Citrus, Bergamot Mint, Frankincense Peach, Coco Van, and Jasmine Blossom.
Their product line includes all-natural deodorant, deodorant spray for the entire body, shower mists that help relieve stress and clear nasal passages, organic lip balm, hand sanitizing wipes that are great on-the-go, and deliciously scented hydrating hand sanitizer.
Have sensitive skin? Freedom has you covered with baking soda free formulas. Looking for a vegan product? Choose Sensitive Unscented, Bergamot Mint, or Frankincense Peach.
Get 10% off Sitewide at Freedom Deodorant using coupon BUDDY10. Coupon works sitewide and can can be used on their already discounted bundle deals and build your own bundles. Shipping is $4.95 or Free on orders of $50 or more. Coupon is not valid on Oops Inventory or subscriptions.
Fun Fact: Freedom Deodorant was voted the #1 Best Natural Deodorant by Good Housekeeping.
Freedom Deodorant began after 3 of founder Ira Green's friends were diagnosed with breast cancer. All of their doctors stressed the importance of using natural products on the body and to especially stay away from antiperspirant. For this reason, Freedom is passionate about supporting organizations that are working hard to help individuals and families battling cancer.
1