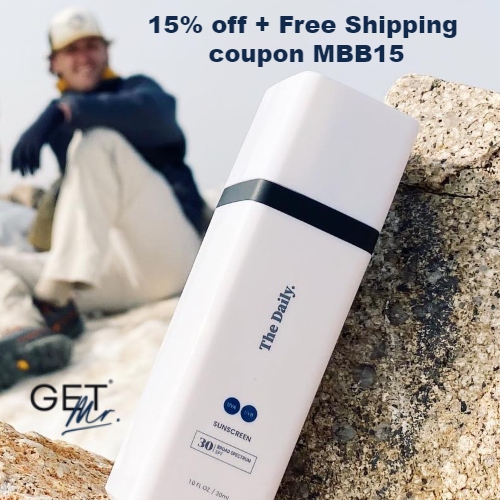 GETMr. is the first 3-in-1, dermatologist approved solution formulated for men's skin. GETMr. was created by leading Mohs skin cancer surgeon, Dr. Beth Goldstein and her daughter Elianna when they noticed that too many men they care about didn't have a simple and safe skincare routine, and with men being more likely to develop skin cancer than any other cancer, they decided to remedy that!
Their 3 -in-1 moisturizer, aftershave & SPF, The Daily, is the perfect product for men who are looking to enhance their morning routine and protect their skin, without the headache of a multi-step routine. This moisturizing face lotion, broad spectrum weightless mineral sunscreen (SPF 30), fragrance free aftershave combo is formulated with simple & clean ingredients that are backed by science. It moisturizes, soothes irritated skin, builds skin strength, provides age defense & prevents new damage, and most importantly, protects skin from harmful rays that can cause skin cancer.
Get 15% off + Free Shipping at GETMr. using coupon MBB15. Coupon is not valid on subscription orders.
GETMr. believes the way we treat our planet is just as important as how we treat our bodies. Their mailers use 100% biodegradable materials. Their ingredients are FDA-approved to be safe when used daily and by using mineral active ingredients, their products are safe for our oceans and coral reefs.
1