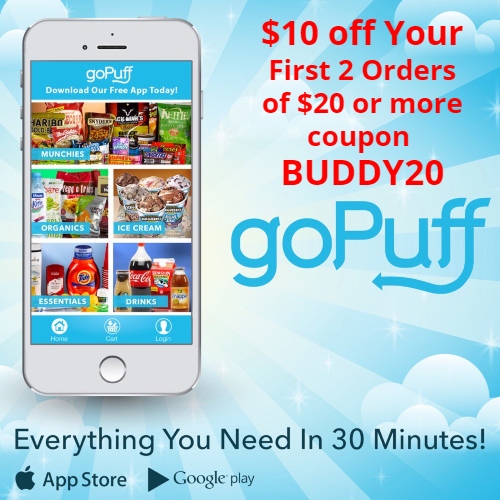 goPuff delivers food & drinks, cleaning supplies, home goods, baby care products, OTC medications, pet products, alcohol (in select markets), and more right to your door in a matter of minutes for just a $1.95 delivery fee – no matter how big or small your order might be! And best of all, goPuff is open 24/7 in most areas and late night everywhere else, so you can easily get you what you need, when you need it, without having to leave your house.
goPuff's mission is to make daily life effortless by making delivery of everyday needs easy and affordable for everyone. They have over 2,500 products in each goPuff facility, so when you order, your stuff comes directly from them to you. Since they're not a courier service, there's no crazy surge pricing. And because they're delivering direct instead of doing in-store pickups, they can deliver quickly. goPuff's motto is: "Order in seconds, delivered in minutes."
goPuff delivers to cities all across America. See if they deliver to your area here. If not, they could be soon, as they are always expanding!
Get $10 off Your First 2 Orders of $20 or more at goPuff using coupon BUDDY20. All orders must be at least $10.95 for goPuff delivery. An additional fee up to $2 will be added to orders containing alcohol.
Bonus: You will earn Puff Points points with each purchase, earn enough and you'll unlock rewards like that can be redeemed for use on your next order. Rewards include things like Free items, 10% off every order for a week, $5 – $20 off one order, and even 20% off every order for 2 weeks!
Want your deliveries for Free? Join the goPuff FAM. For only $5.95 a month, you'll get Free deliveries on every order plus 2x Puff Points on orders over $30.
More about goPuff –
Co-founders Rafael Ilishayev and Yakir Gola were sophomores at Drexel University in Philly when they decided that stocking their college townhouse with snacks and essentials was taking too much time & too many trips to the store on top of balancing school, work, friends & family. So they spent all night drafting mock-ups of the app on the back of their class notes. Three months later, they were delivering those same convenience items from the back of their Plymouth Voyager around campus. The service caught on, the name stuck & now 7 years, 250+ micro-fulfillment centers in 650+ cities and more than 7,000 employees later, their customers are ditching the store to get it "gopuffed".
1