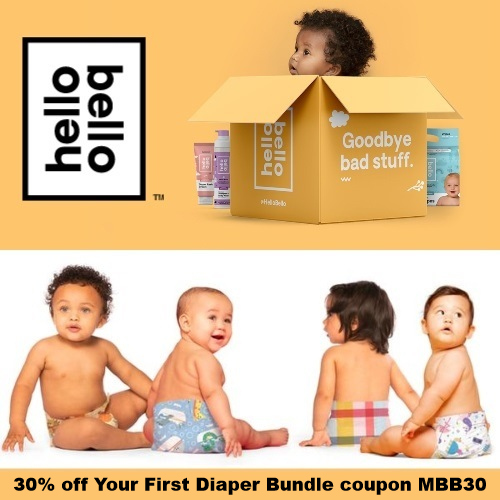 Co-founded by Kristen Bell and Dax Shepard, Hello Bello is on a mission to eliminate the choice too many parents have to make – deciding between the best products for their kids and what's best for their budget. They started Hello Bello to give parents access to affordable, premium products for their babies.
Hello Bello offers high quality designer diapers, baby care essentials & household products at reasonable prices. All products are created with babies, parents, and the planet in mind. They only use safe & effective ingredients with no harsh chemicals and prioritize using renewable, plant-based materials instead of petroleum-based ingredients.
Their premium hypoallergenic diapers come in tons of adorable designs and are made for even the most sensitive skin. They contain no lotions, fragrances, phthalates, or latex, and they feature a plant-derived core liner, sustainably harvested fluff pulp, and are processed without the use of chlorine.
The cutting edge plant-derived core in Hello Bello diapers contains a super-absorbent material that quickly locks wetness away in bubbles of leakage protection. The inner and outer layers are super soft with a cloth-like feel that wraps your baby comfortably and the stretchy side panels allow for easy movement. They stay snug, even when they are soiled, reducing sag and keeping a secure and comfy fit.
Hello Bello diaper bundles offer convenience and great savings! Bundle boxes deliver 7 packs of diapers and 4 packs of plant-based multi-functional baby wipes straight to your door every 5 weeks. You can mix and match diaper designs and add up to 5 of their other premium baby & household products at 15% off! Plus you'll receive one Free product with your first bundle and randomly throughout the year as a special surprise. The boxes they are shipped in can be upcycled into fun playthings like racecars and pirate ships!
Get 30% off your first diaper bundle at Hello Bello using coupon MBB30. Shipping is a flat rate of only $1.95 on all bundle boxes. You can easily change your shipping date, order frequency, or cancel anytime through your online account.
Hello Bello gives back! They offer a 20% hero discount to all first responders & military and they donated over 1 million diapers in 2019 alone!
6