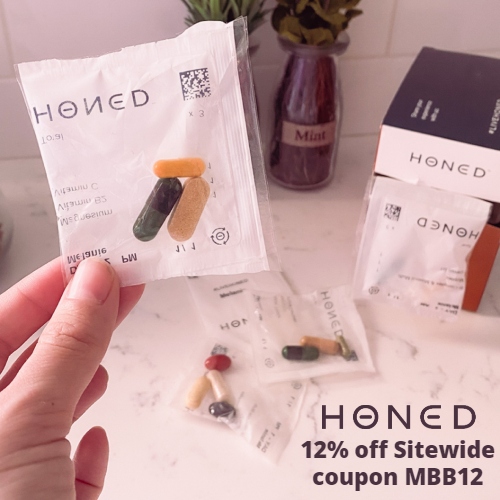 Many personalized vitamin companies claim to know exactly what you need to reach your health goals, but an online quiz can't give accurate results as to what your body really needs for optimized health.
Honed uses advanced testing & analysis to create a custom supplement plan that truly ensures you are taking the vitamins your body actually needs.
All you have to do is send in a hair sample and they take care of the rest! They'll deliver your personalized supplements in easy to use daily sachets straight to your door each month.
Hair testing provides a clear look into cellular health, nutrient levels, metabolic activity, and toxic metal exposures – All of which blood tests can't pick up! Honed cross-references & analyzes your data to find the nutritional imbalances & deficiencies that could be causing symptoms you may be experiencing and figure out which supplements are best for your metabolism & diet, to detox your body, and to make a positive impact on your overall health & wellness.
As your needs change, your Honed plan will change as well. Simply monitor how you're feeling and re-test when needed to ensure your vitamins stay up-to-date with your needs and health goals.
Start by ordering your metabolic test kit and then choose the monthly plan that works best for you. Plans are easy to manage and there are no commitments. You can pause or cancel anytime. They have 4 plans to choose from:
Essential – For basic deficiencies and to help fuel your body & balance minerals.
Enhanced – Goes beyond Essential to fuel, detoxify, rebuild & rebalance, cycles additional nutrients daily, and addresses greater deficiencies & imbalances.
Optimized – Everything in the Enhanced plan plus extra immunity defense, cycles nutrients more frequently for faster results, and addresses all deficiencies common with busier lifestyles.
Therapeutic – Designed for advanced issues. Provides deeper healing and recovery from long term stress and years of nutrient depletion. This package includes dedicated support and managed onboarding.
Get 12% off Sitewide at Honed using coupon MBB12. Shipping is Free on orders of $59 or more.
All Honed supplements are made with pure, potent, and safe ingredients. They are manufactured in North America and are rigorously tested by ISURA™ third party verification and the FDA's Current Good Manufacturing Practices. They meet the highest standards for potency, efficacy, and safety.
1