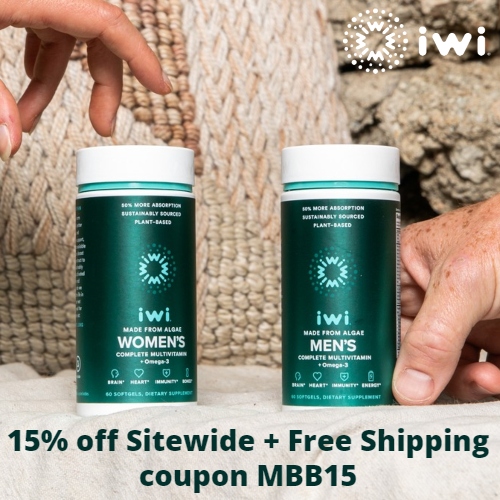 iwi offers Omega-3 supplements that are sustainably made using one of nature's richest supplies – algae!
Science shows that taking Omega-3 supplements can be very beneficial. They support cardiovascular health, sharper vision, brain function, immune response, and more.
However, not all Omega-3s are created equally. Fish get their omega-3 from algae and store it for future energy as triglycerides. Human bodies need omega-3 for structure, not storage. That is why iwi goes straight to the source!
iwi's unique & patented algae gives you the right type of Omega-3 with 1.7x the absorption rate of Omega-3 made with fish, krill, and even other types of algae.
Their supplements aren't just better for you, they're better for the planet as well! Unlike other Omega-3 supplements, iwi does not remove fish or krill from the eco-system to produce their supplements. Plus, their algae farms are powered by renewable energy: sunlight and saltwater!
They offer a range of Omega-3 supplements to help you reach your wellness goals, including men's & women's multi-vitamins, heart, brain, eye, and joint supplements, DHA and EPA supplements, and prenatal vitamins.
Get 15% off Sitewide at iwi using coupon MBB15. All orders ship Free – No minimum purchase required. Coupon is valid on one-time orders & will also apply to the first shipment on a subscription order. Coupon is not valid on bundle & save deals.
For extra savings consider a subscription. You'll get an automatic 20% off 1-month subscriptions & 25% off 2-month subscriptions. There are no commitments. You can pause or cancel anytime.
All iwi supplements are backed by a 90-day Happiness Guarantee. If at any point during your first 90 days you are unsatisfied, simply let them know and they'll provide a full refund!
2