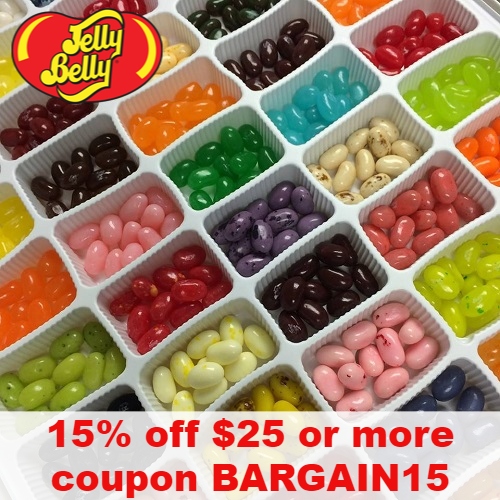 Jelly Belly is the world's #1 gourmet jelly bean! Famous for their 50 official "true-to-life" flavors of jelly beans, like cotton candy, buttered popcorn, root beer, bubble gum, their confections have been spreading smiles for nearly 50 years.
Looking for a fun gift? They carry Harry Potter theme treats, Sports Beans with electrolytes and vitamins, fiery flavors, like sriracha, cayenne, and Carolina Reaper, sugar-free jelly beans, Christmas mixes, and other specialty candies.
Up for a little fun and games? BeanBoozled pairs two jelly beans that look exactly alike but could not taste more different. You could get one of their most popular flavors or one of their wildest (rotten egg, stink bug, or dishwater, anyone?). Here's the catch – you won't know which ones are which until you try them!
Get 15% off your order of $25 or more at Jelly Belly using coupon BARGAIN15. Shipping is Free on orders over $59. While you're there, be sure to visit their Bargain Outlet – Items are already 50% off before coupon!
17