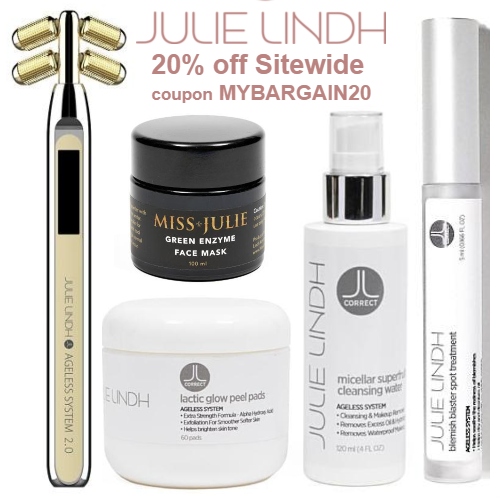 Julie Lindh is an internationally acclaimed aesthetician that has developed a holistic approach to skin wellness that actually works. She uses only the best ingredients mother nature has to offer and clinical ingredients to get the best results in her cutting-edge treatments and innovative products.
There are four foundational pillars to her skin care approach: First, you must CORRECT any current issues (such as acne or inflammation). Then, you REPAIR past damage (such as sunspots, pigmentation, and fine lines). Next, you REJUVENATE the skin to reveal its natural radiance. Lastly, you PRESERVE your glow so that your skin looks agelessly beautiful.
Julie Lindh's skin care line provides all the products you need to achieve those goals, including exfoliating peel pads, daily face wash, face masks, anti-aging serums & creams, blemish spot treatment, retinol resurfacing treatment, and more.
She also offers great high-tech devices, like the Ageless System Beauty Wand 2.0. 3-in-1 Microcurrent Facial Roller that helps to stimulate fibroblasts, build collagen, increase blood flow, and increase oxygen circulation to give you a healthy glow and plumper skin. It can reduce the appearance of fine lines, wrinkles, acne, scarring, and stretch marks, it reduces puffiness, and tones and tightens facial muscles.
Get 20% off Sitewide at Julie Lindh using coupon MYBARGAIN20. Orders over $50 come with a Free gift + Free shipping!
4