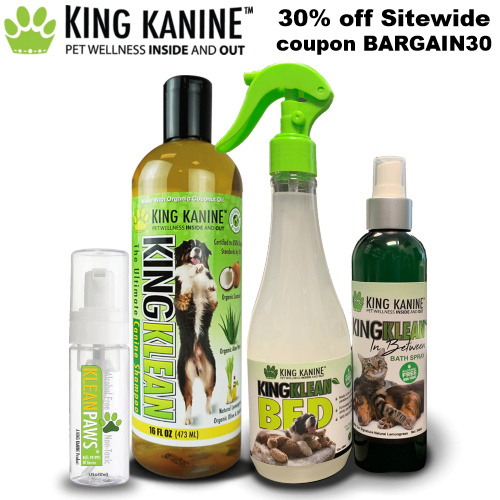 This post contains affiliate links. See my disclosure policy for more details.
King Kanine creates innovative products for your pets. Everything they produce is specifically designed to make life easier for pet owners and the pets they love with holistic and non-synthetic options that you can't find anywhere else. From the best materials and ingredients, to design and implementation, happy pets are their number one focus.
The King Kanine product line includes high quality grooming products, like organic shampoo, de-shedding tools, pet bed spray, & deodorizing pet spray, as well as a wide range of top quality, professionally formulated CBD products, including oils, which are made with natural ingredients and specially designed for your pet's size & breed, paw balm, soothing spray, mange & mite spray, and CBD dog treats in great flavors, like apple cinnamon, blueberry & honey oat.
Get 30% off Sitewide at King Kanine using coupon BARGAIN30. Be sure to check out their already discounted Kombo deals. Items are up to 32% off before coupon! Shipping is $6.99 or Free on orders of $100 or more.
All products come with a 30-day money back guarantee. Items being returned must be unopened, in original packaging or less than 30% used to qualify for a refund.

I received a bottle of King Kanine shampoo and I have to say, at first glance, I was skeptical. The shampoo I typically use on my dog is a lot thicker and I wasn't sure it was going to get my stinky lil' dog clean. After trying it, I found that the thinner consistency made the product go further (always nice when a bottle lasts longer!) and it kept my pooch smelling clean longer than her regular shampoo. When it runs out, I am absolutely going to buy a new bottle!
King Klean dog shampoo is made with only six organic ingredients: coconut oil, jojoba oil, lemongrass, aloe vera, olive oil, and rosemary oil. By using only natural and organic ingredients, they provide a shampoo that is hypoallergenic, eco-friendly, and non-toxic.
4