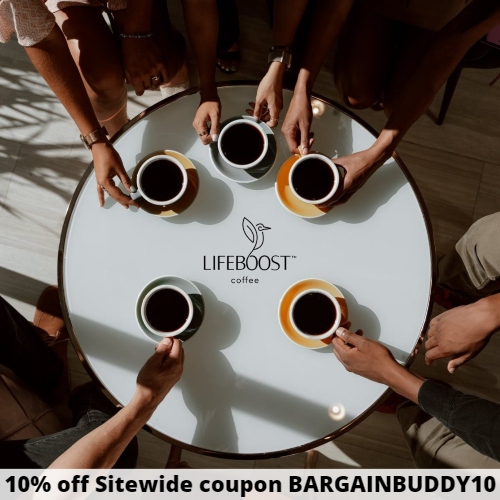 Lifeboost Coffee offers premium, organic coffee that is healthy & delicious. Their coffee is 100% chemical-free, non-GMO, shade grown, fairly traded, and single origin – meaning it's never blended with other coffee beans that are of lesser quality, like many other premium coffee brands.
Their beans are hand-picked one at a time to provide the highest quality gourmet blends, they are then washed with fresh spring water, slowly sun-dried until they have the perfect humidity content, and rested for 30 days to allow them to slowly complete their taste-enhancing richness, giving you the "cream of the crop" when it comes to coffee beans!
Lifeboost Coffee has a roast for every taste, including light, medium & dark roast, espresso, decaf, as well as traditional & unique flavored varieties, like cherry mocha truffle, cinnamon apple streusel, caramel macchiato, pumpkin spice, hazelnut, and many more.
All coffee comes in your choice of whole bean or ground. Medium and dark roasts are available in Keurig compatible pods and convenient Go Bags, which are brewed just like a making a cup of tea.
Get 10% off Sitewide at Lifeboost Coffee using coupon BARGAINBUDDY10. Shipping is $6.95 or Free on orders of $50 or more. All products come with a 30-day satisfaction guarantee. Coupon is not valid on subscription orders.
For the most savings, check out their Multi-Paks. Some are over $50 off before coupon!
10