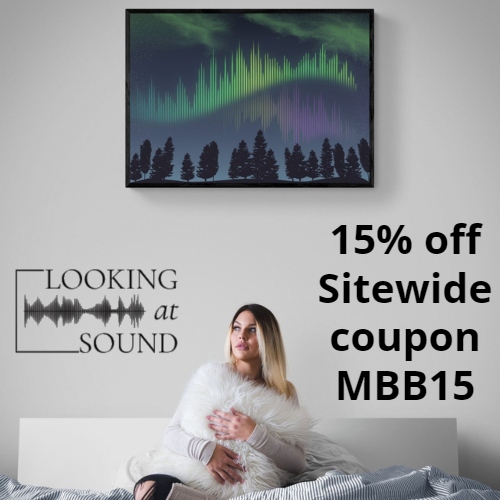 Looking at Sound allows you to turn your favorite songs into stylish art with their one-of-a-kind music art prints.
Creating your own custom print is easy! Simply choose your favorite background style, upload a YouTube, SoundCloud, or Google Drive link with your audio file, and Looking at Sound will create a beautiful print from the soundwaves of your song on either a framed canvas or a museum-quality poster – You can even have your poster framed for only $10 more!
You will receive a preview email within 4-6 hours of placing your order so you can review your design and ask for any revisions you'd like. If you're not happy with the design for any reason, just request a cancellation and they will issue a 100% refund. Returns are not accepted after an order is shipped.
Get 15% off Sitewide at Looking at Sound using coupon MBB15.
Looking at Sound gives back! 10% of their profits are donated to support people suffering from hearing impairments in India, with a special focus on hearing-impaired children.
1