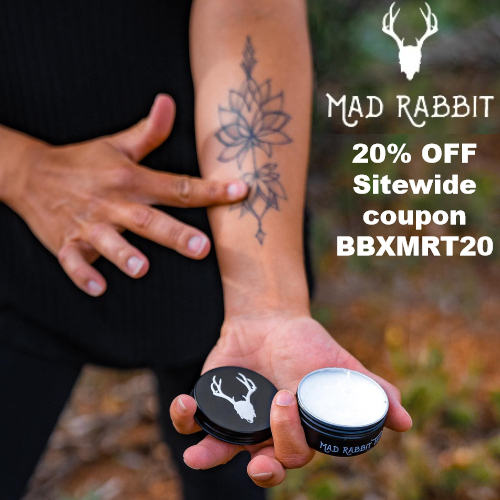 Tattoos are forever – and they're expensive! Tattoo aftercare products are extremely important to ensure proper healing and to keep your body art in mint condition so you can avoid costly touch ups. Mad Rabbit Tattoo products are specifically designed to make your tattoos more vibrant and withstand aging.
Their line of premium all-natural, organic tattoo aftercare products includes:
Tattoo Soothing Gel – The healing process for a new tattoo can be painful & frustrating. You need the right product to reduce the pain and help the healing process. Many products used during the healing stage contain petroleum jelly, which prevents proper airflow to your tattoo while it heals. Mad Rabbit Soothing Gel cools & alleviates discomfort, allows the skin to breathe, and maximizes the skin regeneration process which leads to less scarring and tissue damage.
Tattoo Balm – This balm revitalizes, replenishes, and preserves your tattoos. It is effective on both new & old tattoos whether they are black, grey or colored. It comes in 3 great scents – Frankincense & Lavender, Vanilla & Coconut, and Cucumber.
SPF 30 Tattoo Sunscreen – Tattoos can be damaged by the sun. Protect your ink from fading, skin discoloration, and premature aging with Mad Rabbit's all-natural, non-greasy sunscreen.
Get 20% off Sitewide at Mad Rabbit Tattoo using coupon BBXMRT20. Shipping is $3.99 or Free on orders of $60 or more. All products come with a 30-day satisfaction guarantee. Coupon is not valid on subscription orders.
10