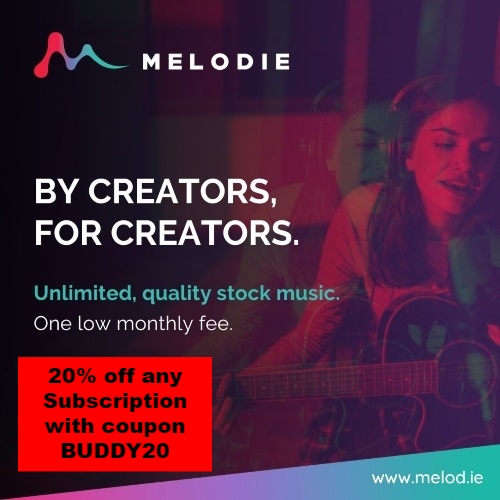 Melodie is a subscription-based music licensing platform providing content creators with unlimited access to authentic, quality music. Melodie was founded by a family of composers, musicians, and sound designers – all with a deep understanding of the essential role music plays in storytelling. They have created a simple, intuitive music licensing platform that both delights the world's content creators, while supporting those creating the music.
Melodie subscriptions provide unlimited downloads of licensed media. They offer a huge range of music from all genres and their selection is updated weekly, so there's always new music to look forward to.
How Melodie's all media, worldwide, perpetuity licensing works –
All Media means you can use their tracks in promoted or sponsored content, as well as broadcast, VoD, OTT, podcasts, radio, games, online videos – literally anything.

Worldwide means there's no restriction on the territories where you can distribute or broadcast your Melodie content. Geo-blocking is a thing of the past!

Perpetuity means forever. Once a Melodie track has been placed or "synchronized" inside a specific piece of content, it can be safely broadcast or distributed inside that content forever.

Enhance your next production with fresh tracks from Melodie subscriptions start at only $10 a month before coupon!

Get 20% off any subscription at Melodie using coupon BUDDY20.

5