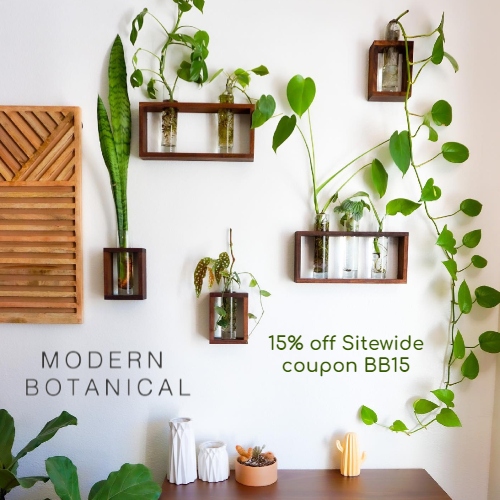 Modern Botanical Grow Frames make it easy to add a little greenery to your space or create a dramatic plant wall with minimum effort. Their planters hang in 1 minute or less and come with everything you need for installation.
Handcrafted in San Diego, California, each grow frame is made using responsibly-sourced domestic hard woods, all-natural finishing products, and real cork, which is harvested without having to cut down trees.

Grow for Years
Your houseplants can grow in their vases for years without having to be re-potted.
Once-a-Month Plant Care
Growing in water is flexible. Simply top off water weekly and replace it monthly. The fresh water will replenish the oxygen, making root rot and watering stress a thing of the past.
Roots, Leaves, and Flowers
Experience your plants growing leaves, flowers, and roots through the course of the year.
Use their handy guide to find which houseplant varieties can be grown in water. They also carry starter sized plants that are ready to go!
Get 15% off Sitewide at Modern Botanical using coupon BB15. Shipping is Free on on orders over $85. Products are backed by a 120-day refund policy.
1