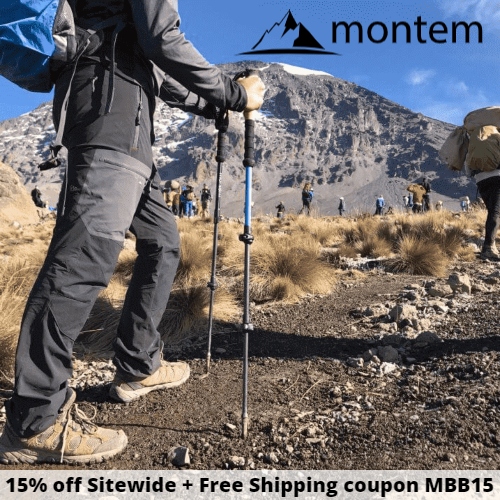 Montem offers high quality and affordable hiking gear and outdoor gear that is designed for hikers, by hikers. Their product line includes trekking poles & Nordic poles, rain jackets, hiking backpacks & daypacks, travel bags, camping hammocks & blankets, and other outdoor accessories.
Montem's best-selling trekking poles, which were ranked the #1 Trekking Pole by Backpacker and Wirecutter, are perfect for hiking, everyday walks, trekking, and Nordic walking. They protect your knees and joints, give you extra support, and help you maintain balance, plus they're super lightweight so you won't feel weighed down. Their Ultra-Strong aluminum poles weigh just 9.2 ounces per pole, and their Ultra-Light Carbon Fiber poles weigh only 7.6 ounces.
Each set of trekking poles comes with replaceable rubber feet, a clip to keep the poles together, and a Free set of mud baskets.
Get 15% off Sitewide at Montem using coupon MBB15. Be sure to check out their Bundles. They're up to 40% off before coupon!
All products come with a lifetime warranty and a 30-day money back guarantee. All orders ship Free – No minimum purchase required!
Montem trekking poles aren't just for hiking & walking! Here are some other ways to use your poles:
• Use your poles to pitch light weight shelters so you don't have to hassle with heavy tent poles. They are more rigid and stronger than tent poles, so breakage is less likely in high winds.
• Your trekking poles can be used as medical splints in emergencies.
• You can use them to defend yourself against attacks from wild animals.
• They increase your traction on loose rock and slippery surfaces like mud, snow, and ice.
• They can be used for deflecting various backcountry nuisances, like spider webs and thorny bushes.
3