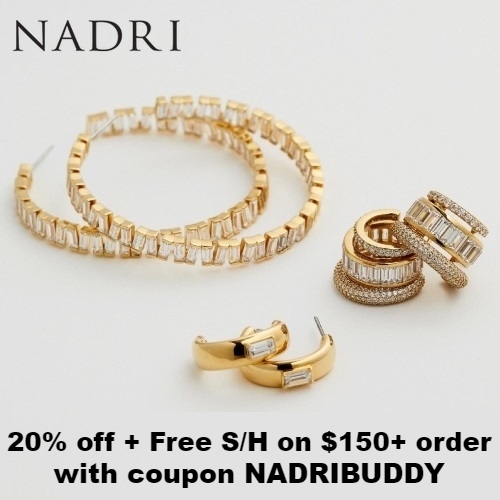 NADRI has been a trusted name in the jewelry industry for over 35 years. The brand is synonymous with timelessness and elegance.
NADRI pieces are manufactured with the same craftsmanship and detailing that is used in making fine diamond jewelry. Designs are versatile and range from vintage to modern. Each piece is held to the highest quality standard, ensuring that the wearer will enjoy it for years to come.
The NADRI line has everything to you need to sparkle from head to toe, including earrings, necklaces, bracelets, rings, wedding jewelry, and fine jewelry.
Get 20% off and Free Shipping on your order of $150 or more at NADRI using coupon NADRIBUDDY. With the exception of final sale, all items are backed by a 14-day return policy and 30-day store credit exchanges.
5