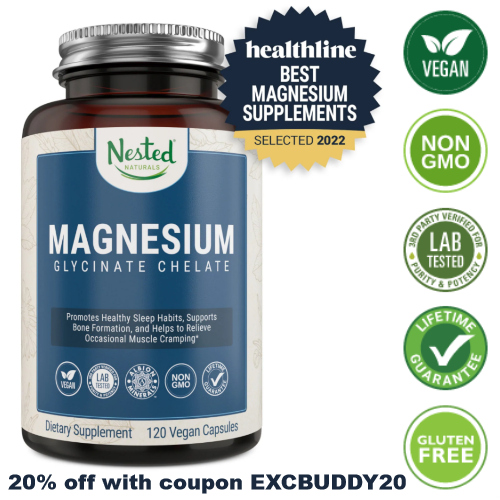 Nested Magnesium Glycinate is designed to relieve occasional muscle cramping, boost energy and metabolism, strengthen bones, and support physical fitness.
This supplement supports 300+ biochemical processes. Buffered magnesium glycinate makes it highly bioavailable, which means your body is able to extract more benefits, and it has no laxative effect. It is non-GMO, gluten-free, and vegan. One bottle provides a two month supply.
Through 10/15, you can get 20% off Nested Naturals Magnesium Glycinate using coupon EXCBUDDY20. Shipping is $5 or Free on orders of $30 or more. All supplements are backed by a 100% lifetime satisfaction guarantee.
Want something else? You can get 20% off Super Cordyceps + Greens using coupon EXCBUDDY20 (exp. 10/15) or 15% off Sitewide using coupon NESTEDBUDDY15 (exp. 12/31).
1