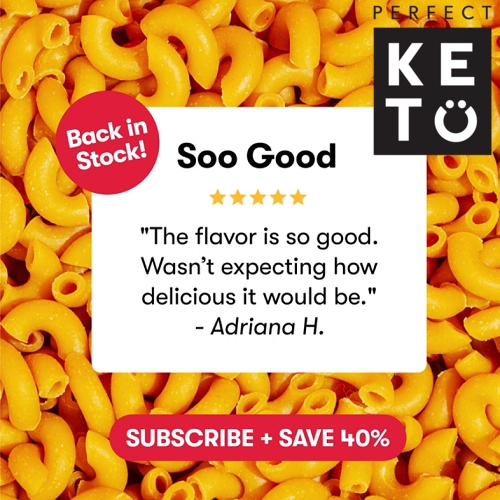 Perfect Keto Mac & Cheese is back in stock and they are offering a whopping 40% off + Free Shipping on your first subscription order when you apply coupon MACISBACK at checkout.
Perfect Keto makes world's ONLY Keto Mac & Cheese. It's as quick and easy to prepare as the stuff in the blue box, with all the cheesy creaminess you love, but with none of the junk or guilt. It's low carb, high protein, and made of clean ingredients.
Place an order today to save a nice chunk of change AND you'll get automated shipments of Keto Mac & Cheese every 30-, 45-, or 60-days (even when non-subscribers get those annoying "Out of Stock" messages).
Not feeling it one month? Pause your subscription easily, for up to three months, and resume it when you're ready. No questions, no fees, no worries. You can also cancel at any time.
Fair warning: This is THE most popular Perfect Keto product and it always sells out!
1