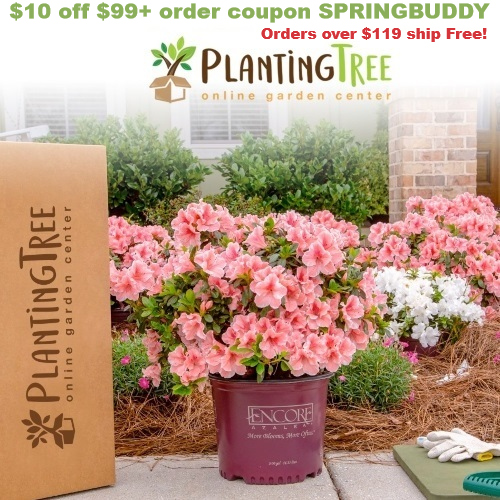 Get your yard ready for summer with PlantingTree. They specialize in trees, shrubs, ornamental grasses, and house plants, and also offer plant care products, lawn care products, and landscape lighting that you can order online and have shipped straight to your door so you don't have to hassle with high priced & overcrowded box stores and nurseries that have huge lines and don't always have what you're looking for.
Whether you need privacy trees, dwarf trees, shade trees, evergreens, fruit trees, ground cover, perennials, privacy hedges, or just about anything else that can be planted, chances are PlantingTree can help!
Get $10 off your order of $99 or more at PlantingTree using coupon SPRINGBUDDY. Orders over $119 ship Free!
PlantingTree is a family-owned nursery that takes great pride in the quality of every plant they sell, so your plants will arrive fresh & healthy! If your plant dies within 5 days, they will replace it with free shipping. If your plant dies within 30 days, they will replace it under their warranty (shipping cost is not covered).
TIPS –
Be sure to check your hardiness zone before ordering to ensure the plants you order will thrive in your area.
Plant Shipping Info –
PlantingTree inventory is moving fast! Order now to reserve your plants. Due to cold weather and the risk of cold damage in transit, PlantingTree has delays shipping to certain areas. They do this so plants have the best opportunity to thrive.
• Orders in States: WA, OR, NV, UT, CO, KS, NE, IA, MO, IN, IL, MI, OH, PA, NY, VT, NH, MA, RI, CT, NJ, DE, MD, WV, KY will start shipping mid-April
• Orders in States: MT, WY, ND, SD, MN, WI, ME will start shipping May 1st
• Orders in other states will ship immediately, along with non-plant orders to all states.
Some plants are not available for immediate shipment, but are available for pre-order. This will be indicated on the product page. Normal shipping schedules resume in the spring.
If you live within a delayed shipping zone and would like your plant shipped immediately, contact their customer support department at support@plantingtree.com.
17