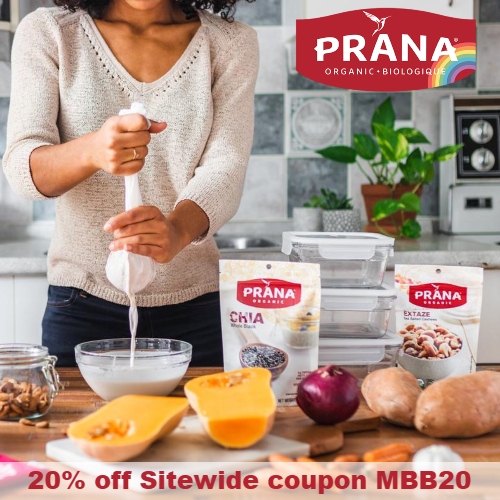 PRANA Snacks is currently only shipping orders within Canada.

PRANA Snacks was founded in Montreal in 2005 by two adventurers with a passion for food and a dream to make positive change. PRANA Snacks offers a variety of delicious 100% organic, non-GMO, vegan and gluten-free snacks, and cooking ingredients.
PRANA Snacks is renowned for their fresh, flavorful products and high-quality standards. They take pride in offering snacks inspired by different culinary traditions from around the globe. They offer a world of flavor and nutrition with their extensive variety of trail mixes, indulgent chocolate barks, crunchy coconut chips, nuts, dried fruits, seeds, sweet & savory snacks, superfoods, nut butters, flours, cacao, coconut products, coffee & tea, and more.
PRANA Snacks is a perfect resource for the foodies of the world, cooks, active individuals, families, people on-the-go, and anyone wanting to achieve health through nutrition, without sacrificing flavor.
Get 20% off Sitewide at PRANA Snacks using coupon MBB20. PRANA offers Free shipping everywhere across Canada for orders of $25 and more.
1