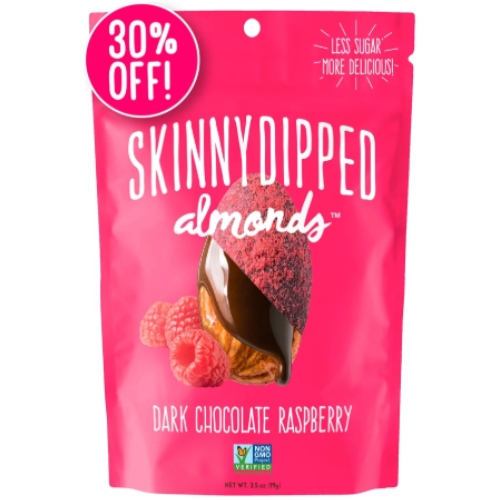 All Packages of Dark Chocolate Raspberry Almonds are 30% off right now at Skinny Dipped Almonds. Add item(s) to cart to see extra discount. Not valid with coupons. Shipping is $4 or Free if you spend $40 or more.
Enjoy a healthy snack of whole almonds dipped in a thin layer of artisan dark chocolate and finished with a hint of raspberry. Unlike traditional chocolate almonds, these nuts have a super thin layer of dark chocolate, so you get more almond in every bite and just enough chocolate to make your day a little sweeter. One serving has less sugar than an apple and as much protein as an egg.
10-CT of 1.5-OZ Single Packs : $17.50 (reg. $24.99)
24-CT of 0.46-OZ Mini Packs : $17.50 (reg. $24.99)
10-CT of 3.5-OZ Pouches : $35 (reg. $49.99)
250-CT of 0.46-OZ Mini Packs : $139.30 + Free S/H (reg. $199)
Want something else? You can get 15% off any order using coupon MBB15.
2