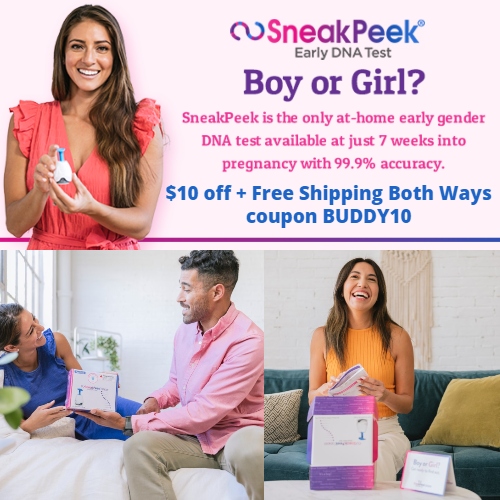 Can't wait to find out if you're having a boy or girl? SneakPeek offers the only at-home early gender DNA test that lets you discover your baby's gender as early as 7 weeks pregnant at 99.9% accuracy! Their tests are trusted by over 450,000 moms and recommended by top physicians and obstetricians.
Their home-based collection kit includes detailed instructions along with everything you need to easily collect your DNA sample at home and mail it back to SneakPeek Labs in a pre-paid package. You'll get your results as soon as 72 hours after placing your order!
You can choose the original SneakPeek Gender test, with a lancet to prick your finger and collect your blood sample manually, or their new breakthrough Snap device, which makes collecting your sample easy and pain free. Just press it on your arm and you're good to go!
SneakPeek is the most accurate early gender DNA test on the market and they fully stand behind their results. If the gender of your newborn doesn't match your test result, you'll receive a 100% refund of your purchase price!
Get $10 off + Free Shipping Both Ways at SneakPeek Test using coupon BUDDY10. Coupon is not valid on Traits test.
3