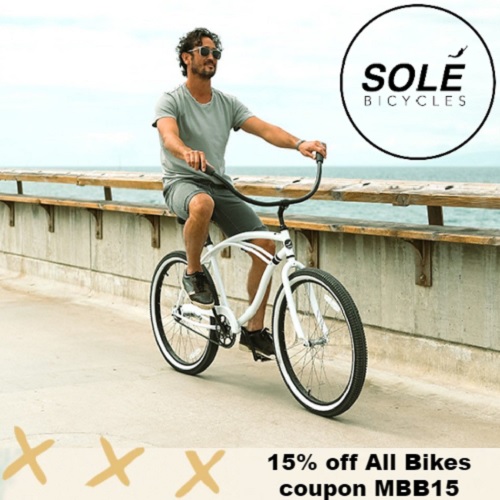 The team behind Solé Bicycles believes your leisure bike should be more than just another piece of sporting equipment. It should reflect you and your unique your style. Like a mobile canvas, their fashion forward, yet affordable bicycles do just that!
Founded in Venice Beach, CA in 2009, Solé Bicycles are fun, colorful, and they make a statement. Best of all, they are shipped directly to your doorstep 90% assembled and at a fraction of what you might pay for one at a bike shop. Their bikes have been featured by publications, such as Rolling Stone, Refinery 29, GQ, Nylon, and Men's Health.
Whether you're looking for a single speed fixed gear bike, a Dutch step through bike, a city cruiser, a 3-speed bike, or a coastal cruiser, Solé Bicycles has you covered!
Get 15% off all bikes at Solé Bicycles using coupon MBB15. Be sure to check out their sale bikes – they're already up to $80 off before coupon!
1