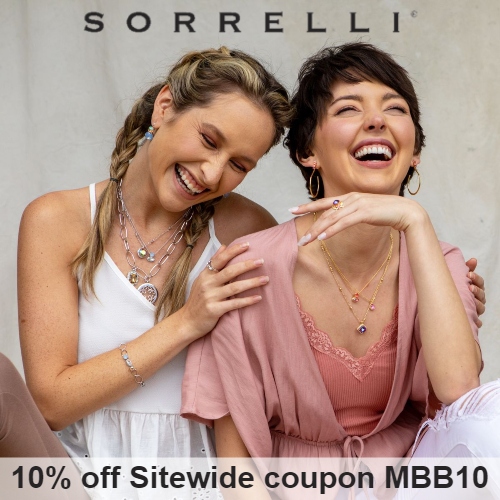 Sorrelli is a family-owned, premium jewelry brand that creates exquisite handmade jewelry. Lisa Oswald, the creative force behind the Sorrelli brand, began designing her signature jewelry in New York City after college and made each piece by hand on her kitchen table, while her sisters took care of sales & marketing. To celebrate their Italian-American heritage and their family, Lisa appropriated the Italian word for sisters, "sorrelle", for her company's name. Sorrelli's unparalleled jewelry designs have now become known and admired around the world.
Today, Sorrelli designs still begin with Lisa and are transformed into beautiful pieces of contemporary and vintage-inspired jewelry by a skilled team of artisans who handcraft each piece with a unique blend of ethically sourced, semi-precious and synthetic cabochons, such as reconstructed turquoise, freshwater pearls, Amazonite, opals and tiger's eye, and genuine Swarovski® crystals.
Their signature designs are known for their extraordinary workmanship and high-quality materials. Their pieces are designed to become heirlooms and last forever. Sorrelli has jewelry to complement every outfit, from casual to elegant. Their collections include pieces that are:
• Classic – These go-with-everything pieces are timeless and can be worn over and over again.
• Boho – The Bohemian look is earthy and layered with free-flowing designs and natural elements and draws on fashions from the 1960s and 1970s.
• Bold – If you love jewelry that makes a statement and defines you as unique, confident, passionate and interesting, Sorrelli has a wide variety of choices that are right up your alley.
• Fashion Forward – If you're always on top of emerging trends, Sorrelli's bright and sparkling Swarovski® crystal jewelry is the perfect choice, from their stunning stackable baguette crystal rings to their elegant crystal cuff bracelets.
• Bridal – If you're looking for beautiful vintage-inspired crystal wedding jewelry for yourself or your bridal party, take a look at the Sorrelli Bridal Collection . It features pieces that will complement your gown, no matter its color or neckline, and the romantic neutral hues are perfect for your big day.
Get at 10% off Sitewide at Sorrelli using coupon MBB10. Shipping is $9.95 or Free on orders of $130 or more. All orders come with 30-day returns (excluding final sale items).
Sorrelli Jewelry stands behind every single product with a lifetime guarantee. No matter how long ago you purchased a Sorrelli piece, you can always send it back for repairs.
Lost an earring? Sorrelli has you covered! Simply fill out a repair form and check the box at the bottom that says "Make-A-Mate/Replace". The cost to create the mate is only 1/2 the current price of the original earring set, so you don't have to pay for a whole new set!
1